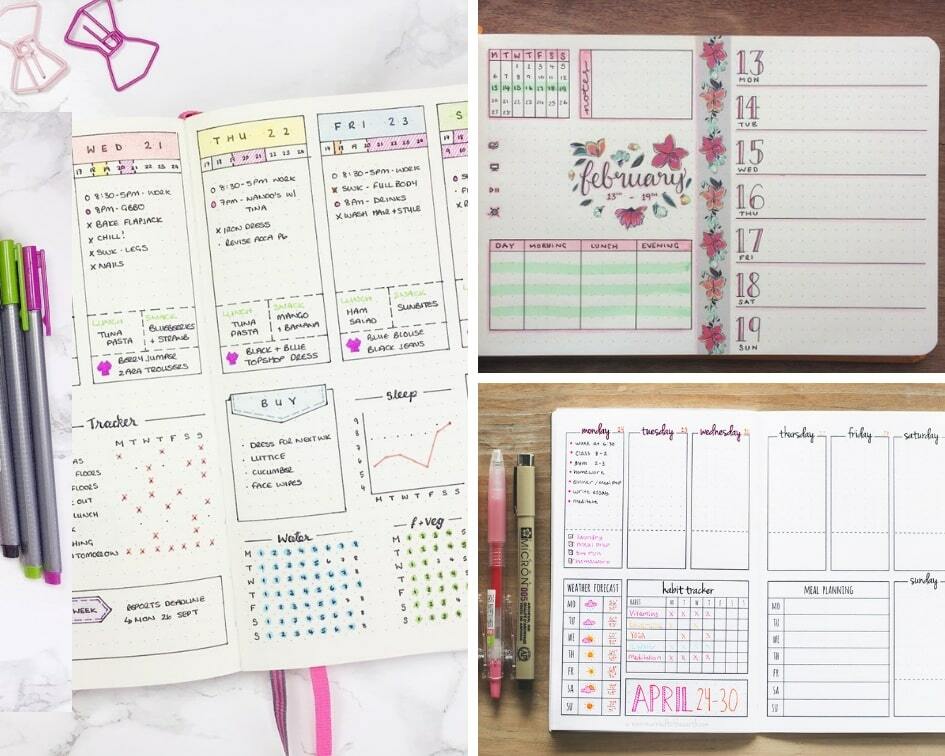 Whether you're trying to stay organized, plan ahead, or set goals; using a bullet journal is a great way to keep it all together! It makes tracking goals and planning a lot more fun and inspiring!
One of my favorite things about using my bullet journal is the ability to customize it and make it my own. You don't have to be an artist, or good at drawing to create your own bullet journal. Overall, you just want to use a layout that works best for you.
Something about getting a new planner, and writing things down just gives you a little bit more motivation to get them done. One of the most common uses of a bullet journal is weekly planning, which can be done by creating a weekly layout spread. These weekly spread ideas are sure to inspire you to plan ahead and hit your goals!
Detailed Weekly Setup with Daily Log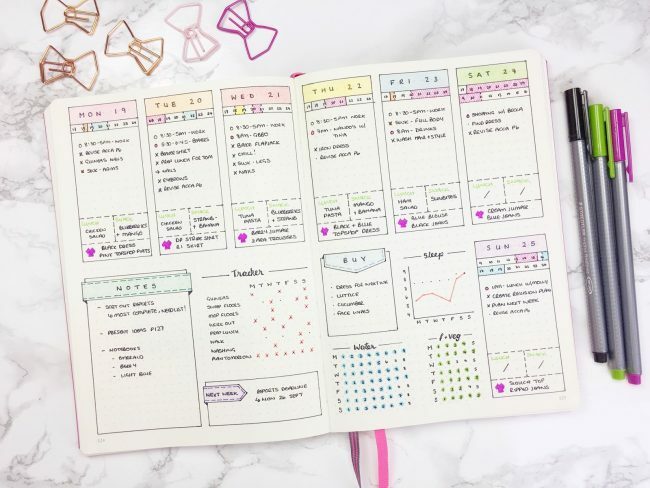 This spread is great if you like to plan out all of the little details of your week. The top portion has a daily log to track your schedule. While the bottom is used for notes, tracking, and purchases. Via Kate Louise
Galaxy Inspired Weekly Layout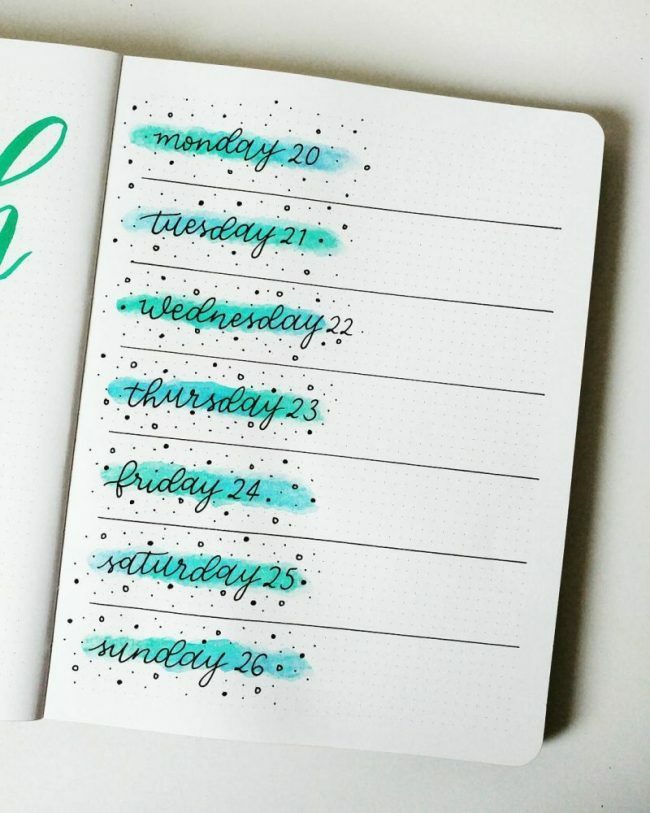 If you prefer to take a more minimalist approach to your bujo layout, this simple page is a great idea. Via @bujo_nina
Simple Shapes Bullet Journal Weekly Layout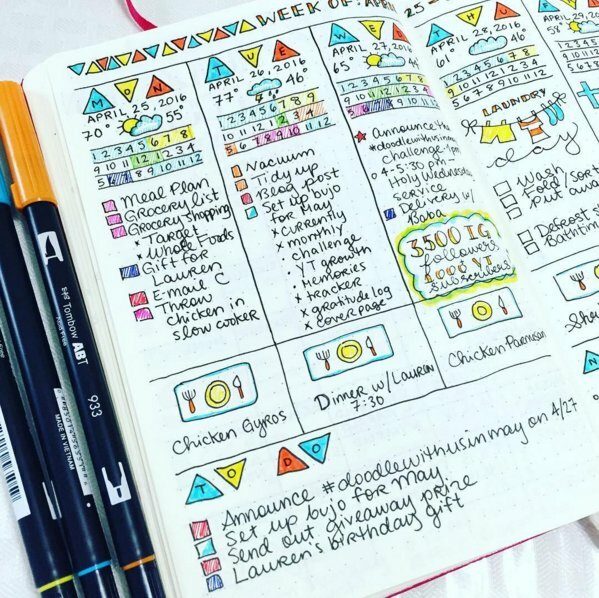 I mentioned earlier that you don't have to be an artist to create a bullet journal. I love how @alexandra_plans uses simple shapes like triangles, squares, and rectangles for this weekly layout design.
Simple Layout with To Do List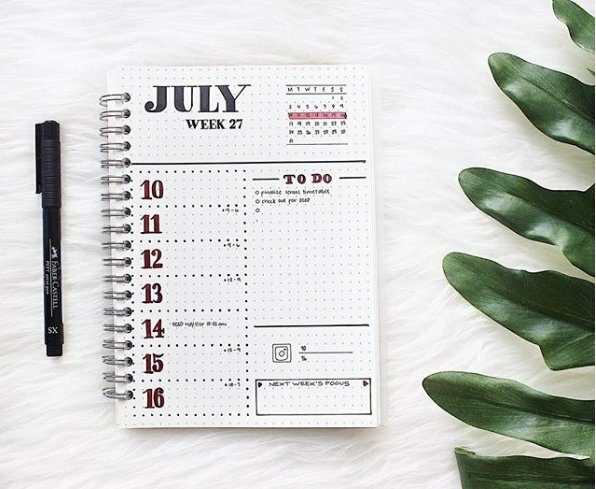 Here we have a simple calendar style planner design. This is great if you don't like a busy layout. Track your schedule and things to do each week all on one page. Via @irisk.letters
Weekly Planner with a Pop of Color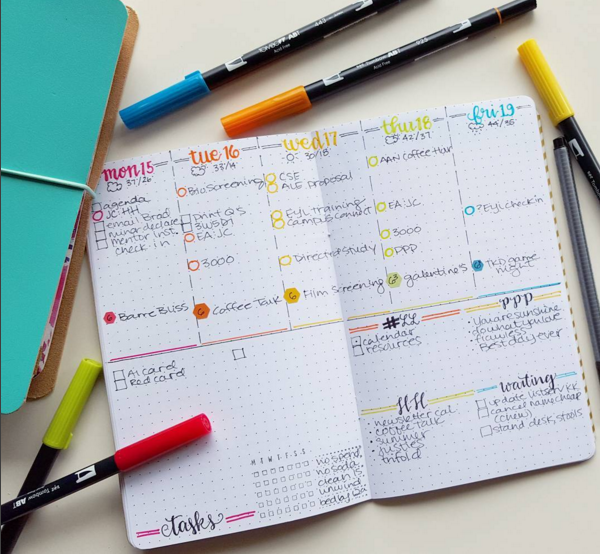 I love this weekly layout because while it's minimalist, it still uses color to liven things up a bit! Via @prettyprintsandpaper
Floral Bullet Journal Weekly Layout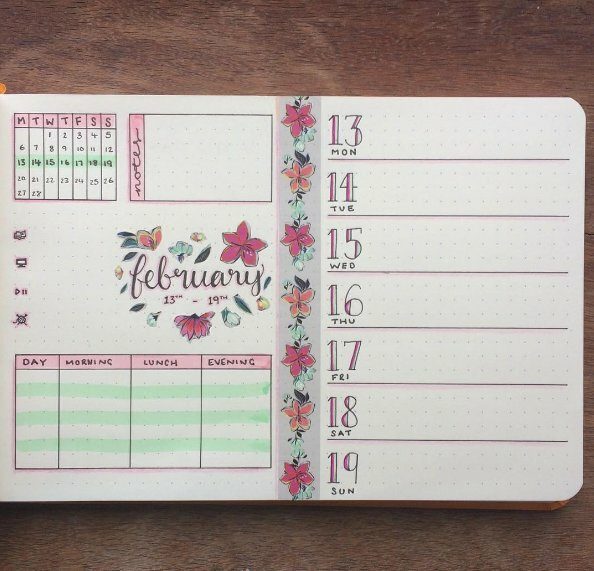 The first word that comes to mind when I see this bullet journal layout is "Pretty". It's super chic and great if you like a more artsy layout. Via @journalphine
All inclusive weekly layout planner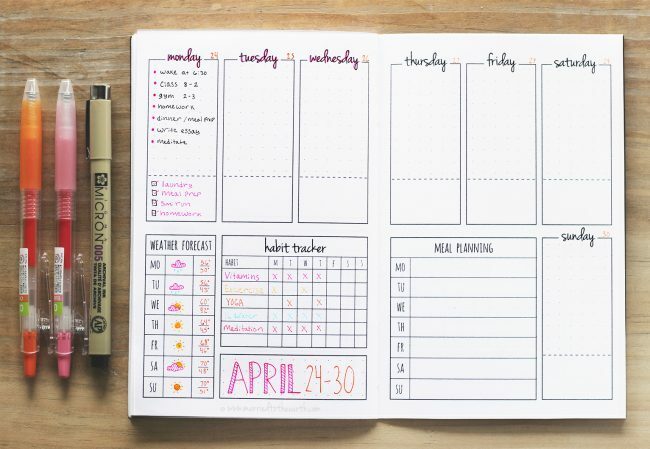 If you're looking for a simple journal layout to track just about everything, this is the spread for you. Plan your week, track the weather, habits, and meal plan all at once. No need to flip the page each day. Keeping everything on one page makes it a lot easier to remember to make your daily updates. Via Married to the Earth
Busy Weekly Planner Layout
This layout has a lot going on, but it is still very effective! This is great if doodling is your thing. Via @bluenittany
Weather Forecast Bullet Journal Weekly Layout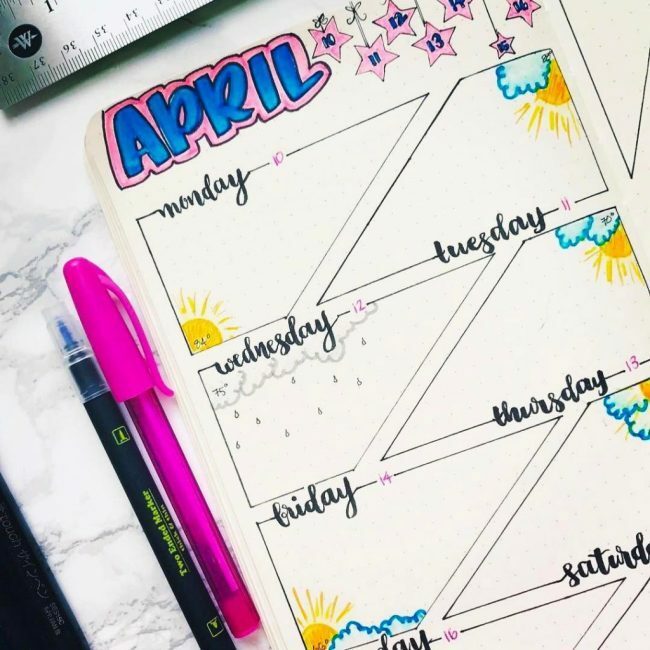 I love the illustrations of the weather forecast on this layout. It's a great way to plan your day around the forecast. Jot down things to do or simply key dates with this cute weekly spread! Via @theblackerthebujo
Weekly Layout with To-do log and Mood Tracker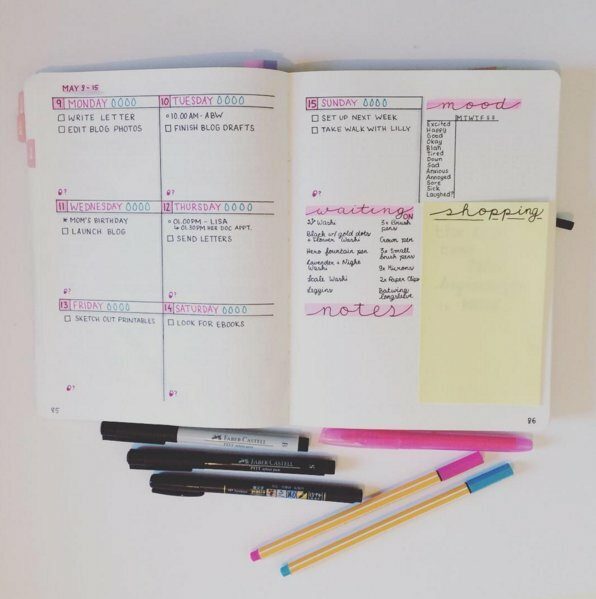 Track your mood each day, and also get things done with this tracker. I'm a fan of checklists, so I love how they are incorporated into this weekly layout. Also, notice how the shopping list is added with a sticky note. This makes it easy to remove and take it with you when you go shopping, rather taking the whole journal to the store. Via @loveandnotes
I hope that you were able to get some bullet journal inspiration for your weekly layout spread. These ideas should get you started. Feel free to add your own personal twist on any of these to make them your own!
Don't forget to pin these ideas for later!