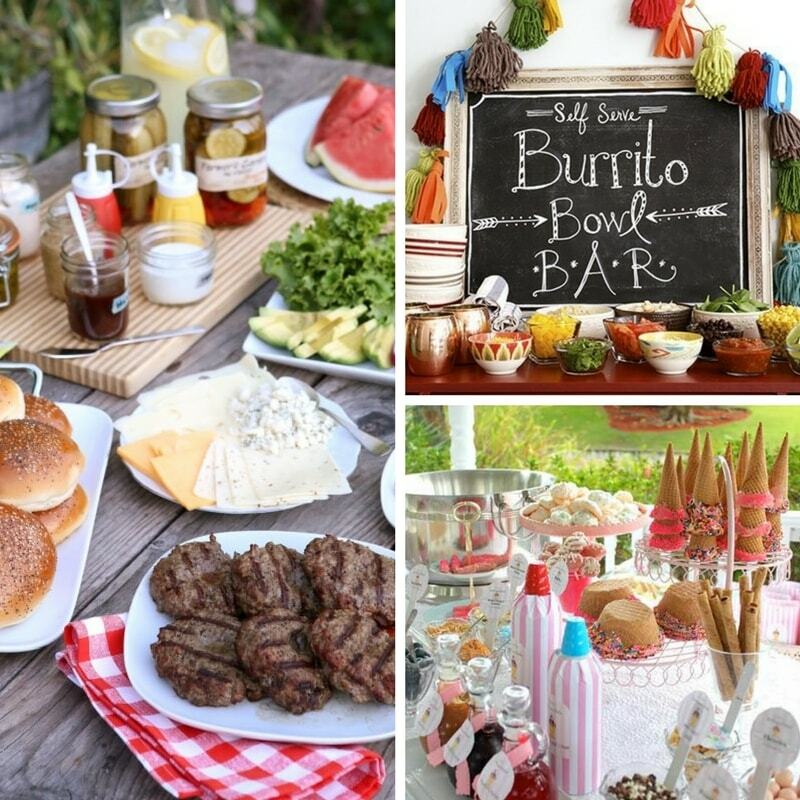 When it comes to serving good food for a crowd, a food station or bar is always a good idea! There are so many different food station ideas that you can use to feed your guest, I decided to put together the ultimate list for any occasion.
A few reasons why you should have a food station at your next party or gathering:
A food station will add to your party decor. You can coordinate your party theme with your food bar theme for an added touch of pizazz.

Being that food stations are self-serve, your guests will enjoy being able to choose what they want on their plates to eat!

After you set up your food bar, you can relax and enjoy the party since you don't have to worry about serving your guests!
Burger Food Bar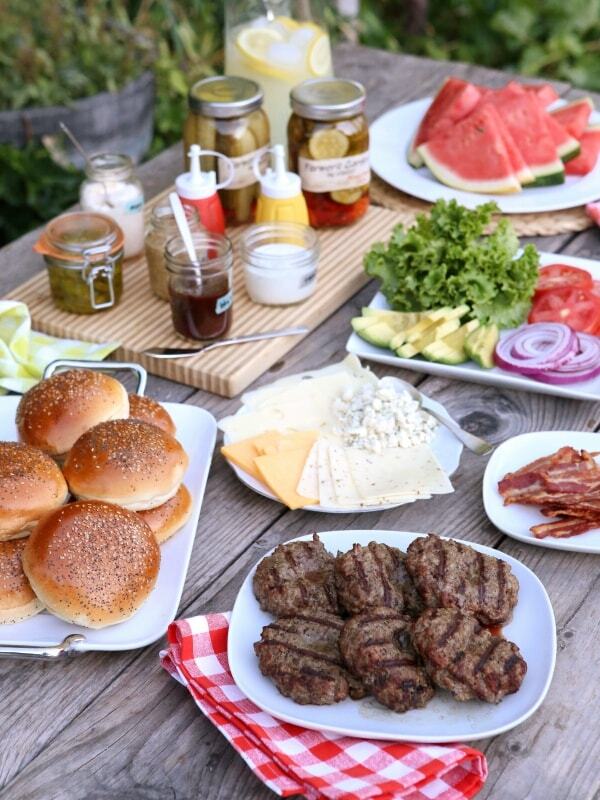 A burger food bar is the perfect crowd pleaser for any occasion! Whether you're entertaining at a cookout, birthday party, or just having a get-together; a burger bar has a little something for everybody. You can also add a few veggie burgers if you plan to serve anyone that's a vegetarian. (via Completely Delicious)
Waffle Bar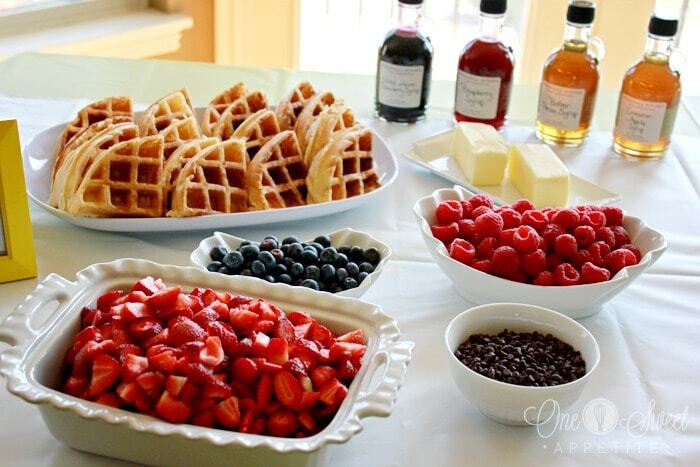 Who doesn't love a good brunch?! This waffle station is perfect for a bridal shower or even a casual girls brunch. Just add your favorite waffle toppings and it's a party! (via One Sweet Appetite)
Sandwich Station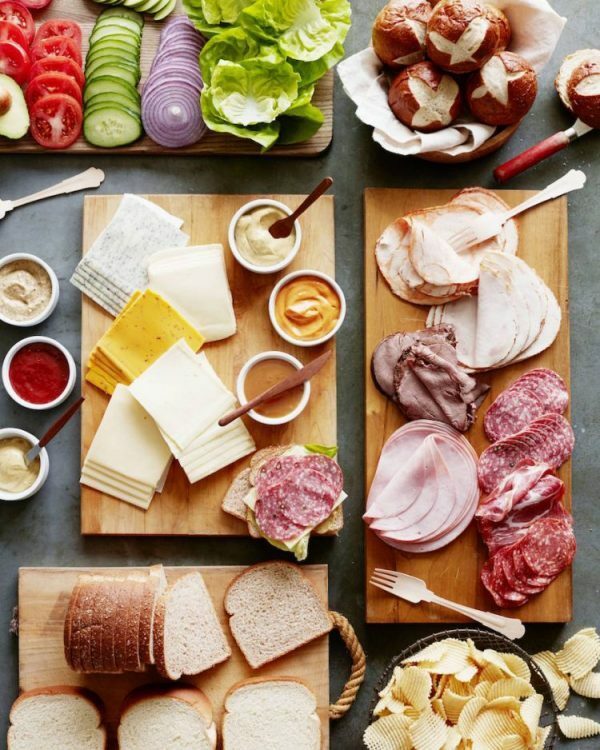 Just like a good burger, a good sandwich is just as good in my book! For the perfect sandwich station, include a variety of bread, cheeses, meats, and other toppings. (via What's Gabby Cooking)
Baby Shower Dessert Table
Isn't this just the cutest?! This dessert table is not only full of tasty treats, but it's also a great decor add-on for a baby shower. Of course, you can switch up the colors depending on the gender. (via Sweet Figments)
Taco Bar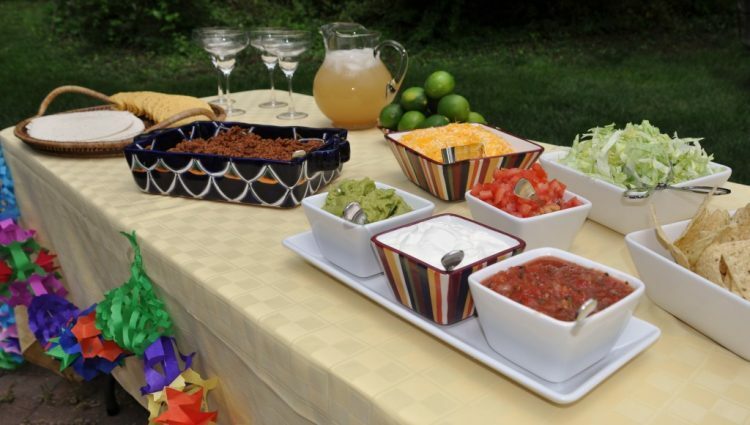 We can't talk about food stations without mentioning taco bars! I mean c'mon, it's the ultimate self-serve party favorite. When I think of good food for a crowd, tacos always come to mind! (via Where Do We Find The Time)
Bagel Food Bar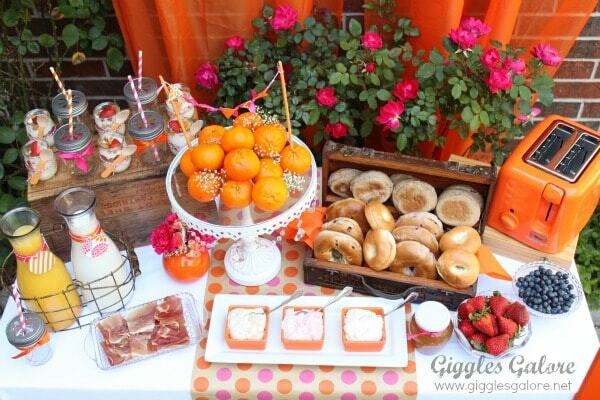 This Bagel food bar is a great option for a Mother's Day Brunch. Include a variety of bagels, cream cheese options, preserves, and fruit to make it more versatile. (via Giggles Galore)
Burrito Bar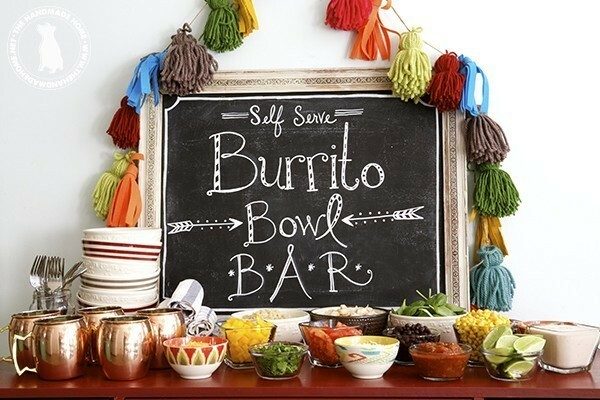 Because if you don't have a taco bar at your party, burrito bowls are the next best thing! Make a copycat Chipotle-style food station by serving your guests all of the tasty burrito toppings self-serve style. (via The Handmade Home)
Ice Cream Station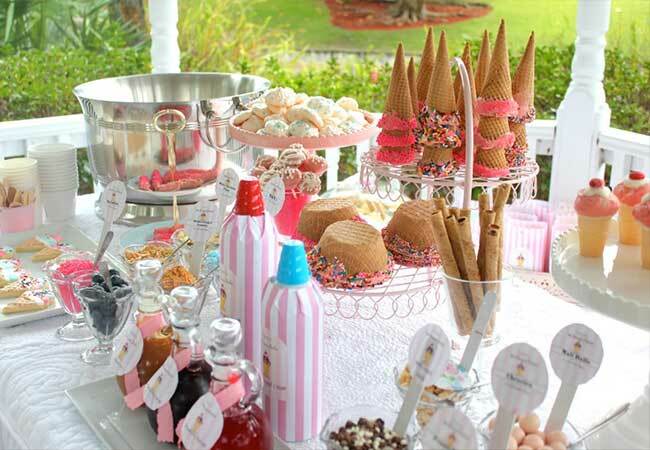 This ice cream station is great for a little girls birthday or even a wedding. Wow your guests with this elegant setup that includes everyone's favorite ice cream toppings! (Via Wed Magz)
Spud Bar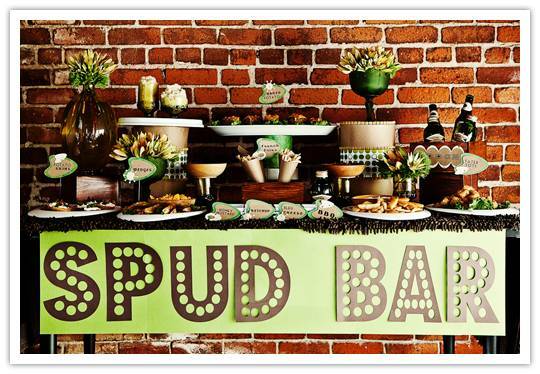 How unique is this spud bar food station?! This food bar is "loaded with loaded baked potatoes" – you see what I did there? This can include anything from baked potatoes with toppings like sour cream, chives, bacon bits, and cheese. You can also include potato wedges, potato skins, and tater tots with all kinds of dipping sauces. (Via Inspired Bride)
Wine and Cheese Food Bar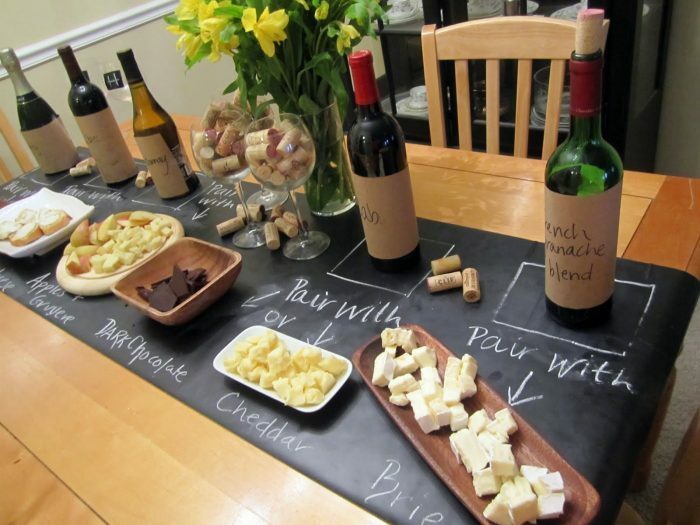 This wine and cheese bar is perfect for a girls night in, formal dinner, or even a wedding if you dress it up a bit. Make it even more interactive for your guests by using chalk paper to write out the best wine and cheese pairings. (Via Jackiefo)
Mimosa Bar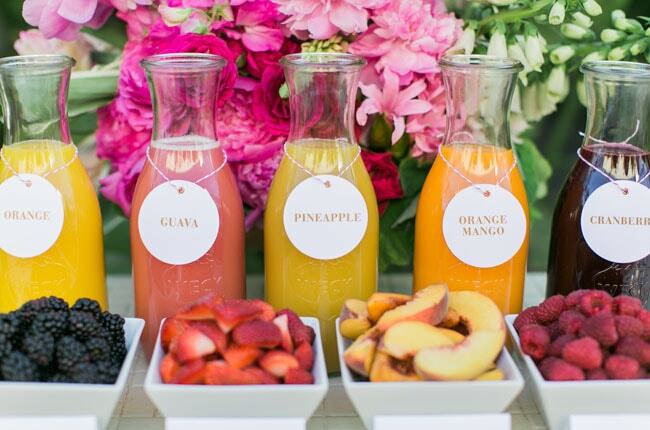 Whether your hosting a wedding, bridal shower, or a brunch this mimosa bar is a great idea! Serving a variety of flavors and adding fresh fruit is a great way to provide something for everyone. (Via Green Wedding Shoes)
Dessert Bar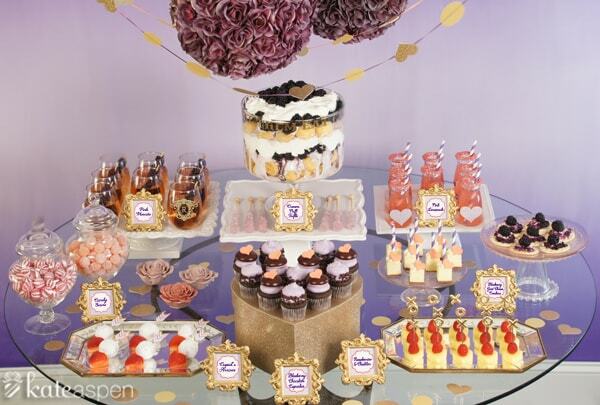 For a delectable dessert table, pair cupcakes and cakes with smaller finger food desserts. I love how this one even includes dessert inspired drinks for an extra pop. (Via Kate Aspen)
Hot Chocolate Bar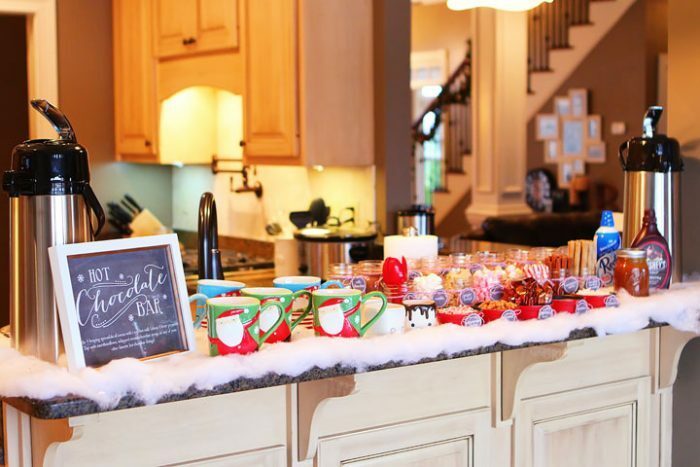 Hot chocolate is the ultimate comfort beverage, and what better way to celebrate in the colder months than with a hot chocolate bar! I'm definitely having one of these at my annual Christmas party this year! (Via Kevin and Amanda)
Yogurt Food Bar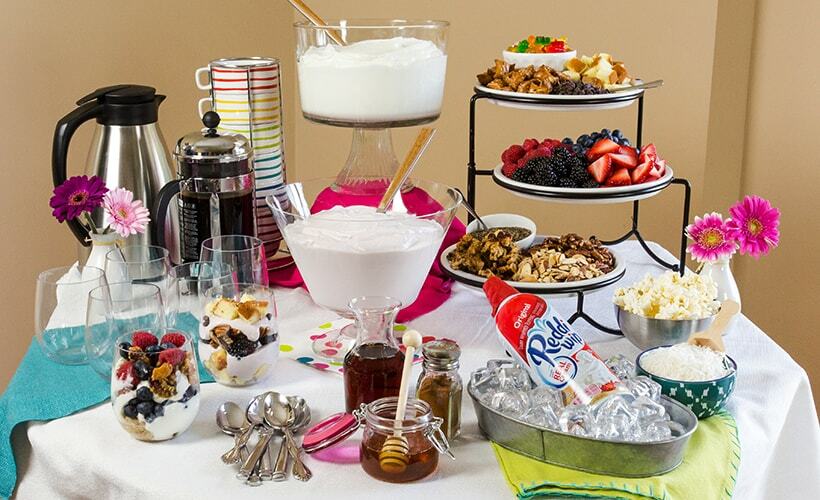 Another great food station idea for a brunch. This self-serve yogurt table includes fruit, honey, cinnamon, nuts, coconut, and even popcorn. This would also be a great option to replace ice cream. (Via Reddi Wip)
Candy Bar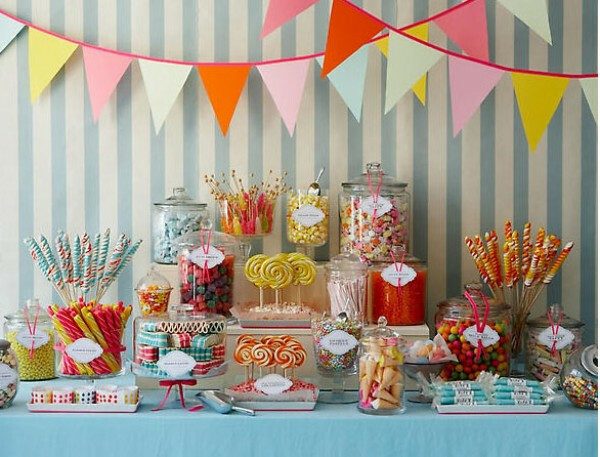 A treat table or candy bar is a must for any kids' birthday party. Fill up see-through canisters with a variety of different candy for a colorful fun display. (Via Attn 2 Perf)
Oyster Bar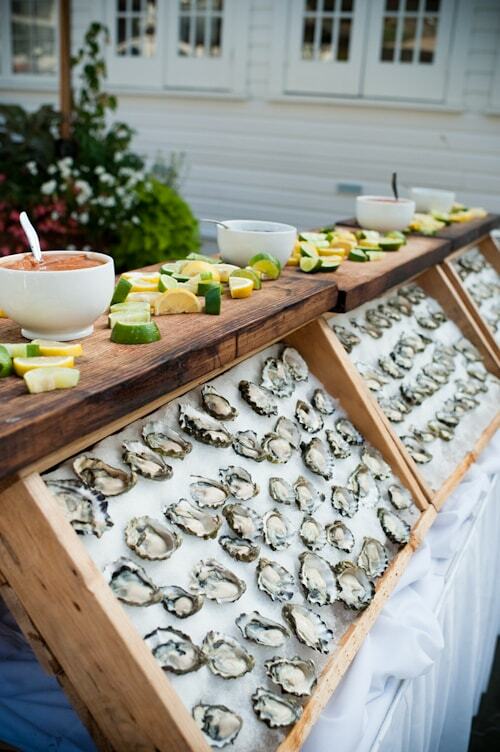 This gorgeous Oyster Bar is so sophisticated and fit for a wedding or other elegant celebration. The oysters are kept on ice and raw to keep them at the right temperature. Your guests will certainly be impressed with this one. (via June Bug Weddings
Unicorn Ice Cream Bar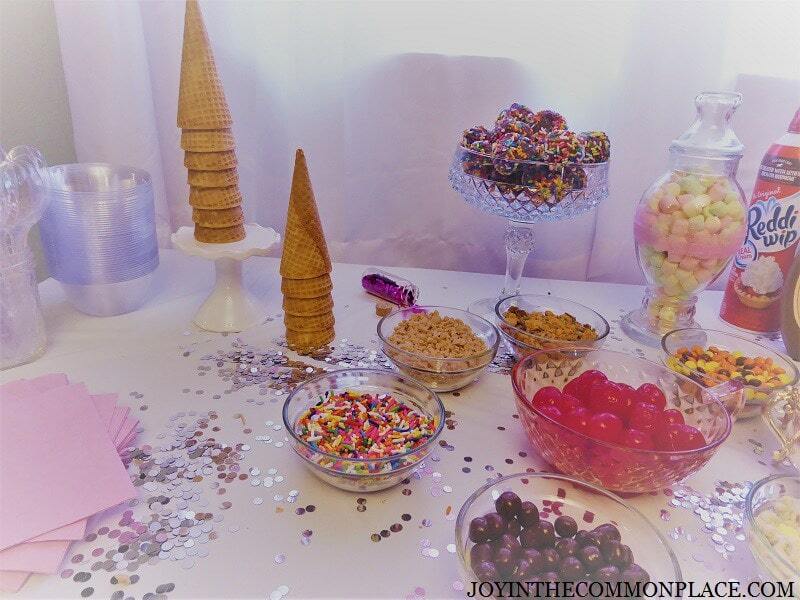 This unicorn ice cream bar is so cute for a little girl's birthday party! Guests can create their own sundaes in a bowl, and top them with pointy cones that look like unicorn horns. (via Joy in the Common Place)
Fruit and Veggie Bar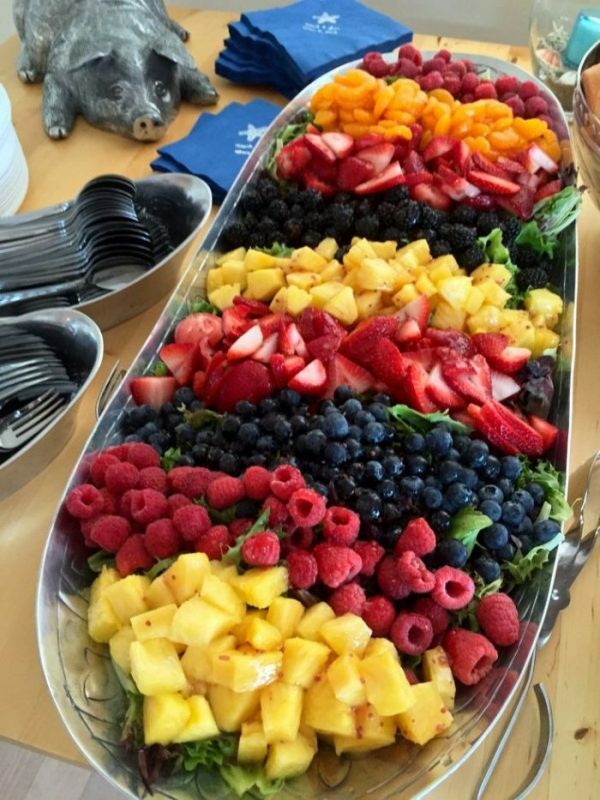 Adding a fruit bar to your party menu line up is a refreshing option for guests who prefer something lighter. This simple fruit display beautiful, without any fuss. Arrange the fruit in organized rows for a more elegant touch. (via Seeker World)
Your party or gathering is sure to be a hit with any of these food station ideas on the menu! There is guaranteed to be a little something for everyone on your guest list!