It no secret that trends always seem to recycle themselves. One of my favorite older trends is making a comeback – Macrame Plant Hangers! For those of you not familiar, macrame involves using cords, string, twine, or rope to create knotted patterns in various combinations. Rather than knitting, you just tie a few knots! These hanging planters are also great for small living spaces, since they don't take up any wall or floor space.
Needless to say, macrame projects are a DIY'ers dream. They are so much fun, and they can range from easy to more intricate designs. They are also inexpensive, being that the materials are so simple!
Simple DIY Macrame Planter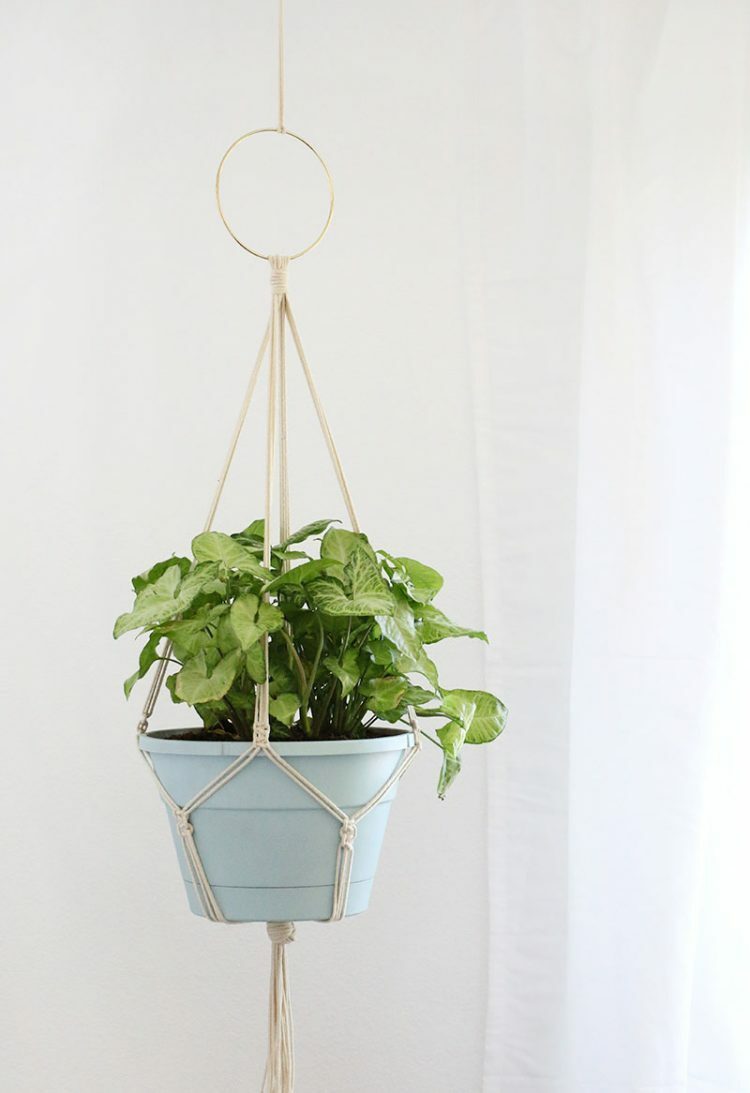 I thought I'd get us started with a more simple macrame plant hanger design. This design is perfect for beginners and uses natural cotton macrame cord. (Via Persia Lou)
Easy Macrame Plant Hanger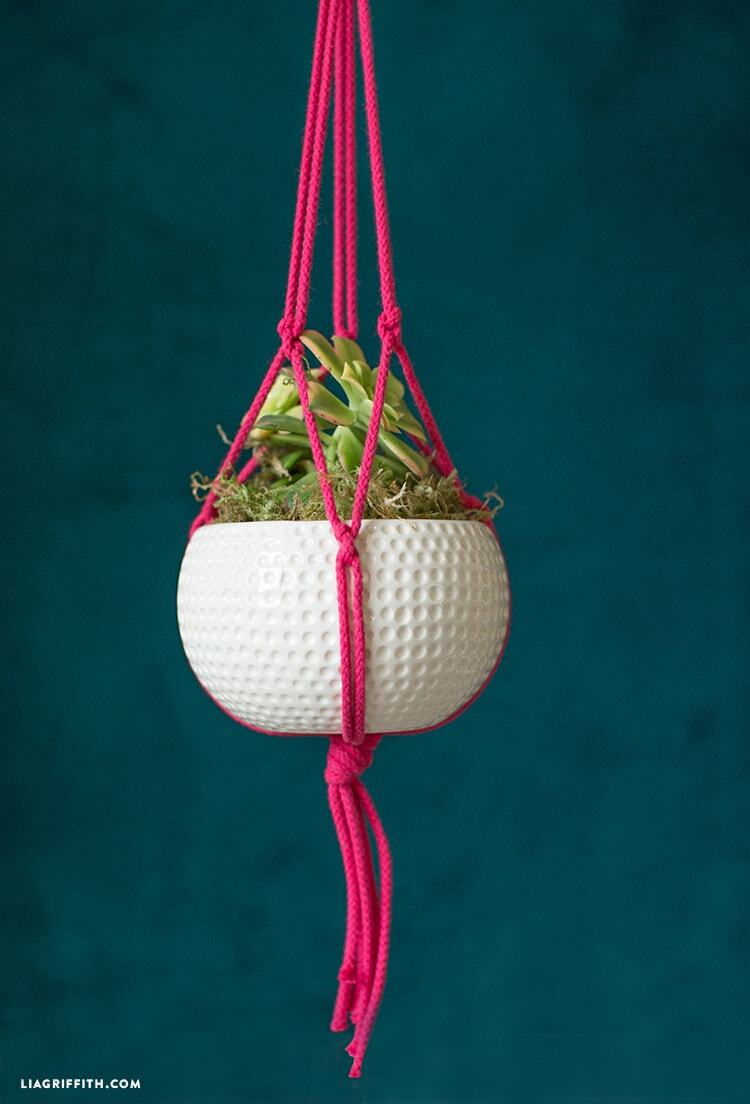 Next up, an equally simple cotton rope macrame plant hanger. I love the fuschia color that they used to create this one. This would serve as a nice accent piece in your living area! (via Lia Griffith)
DIY Macrame Plant Hanger + Gold Plant Stand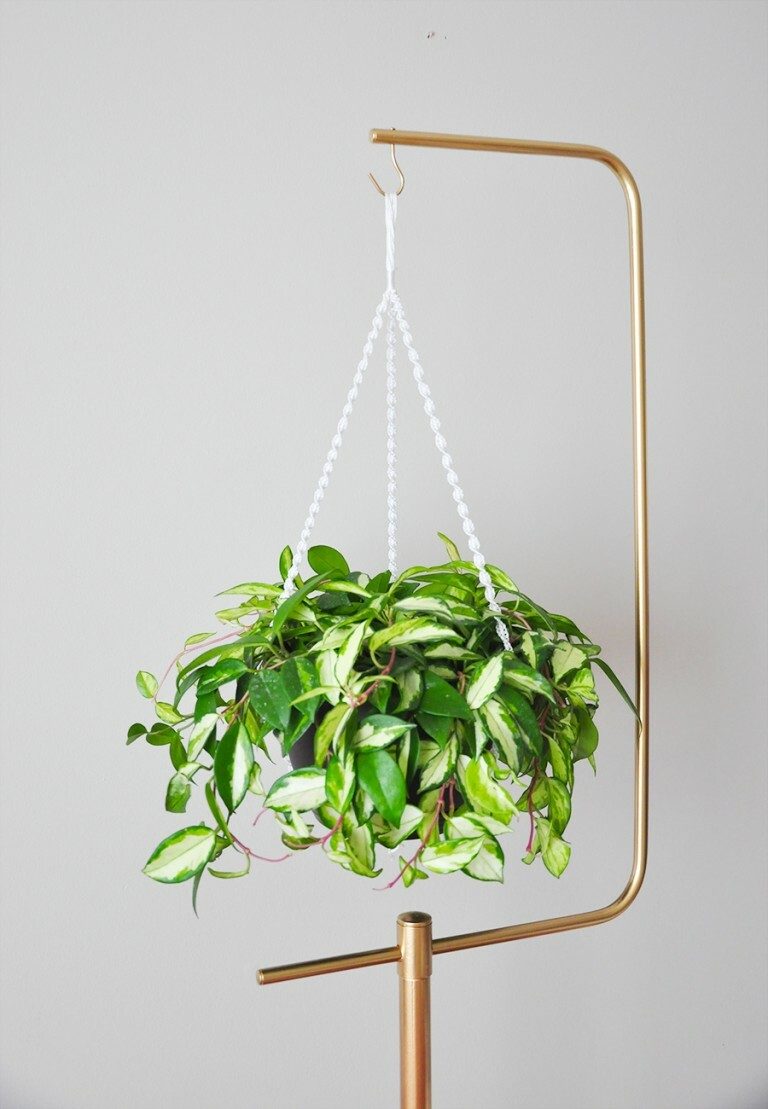 Here we have a 2 in 1 DIY project. For starters, you'll create a gold plant stand to hold the macrame plant hanger. This is actually a lot easier than it sounds. You can just repurpose an old lampstand and spray paint it gold. (via Foxie Oxie)
Polyester Rope DIY Macrame Plant Hanger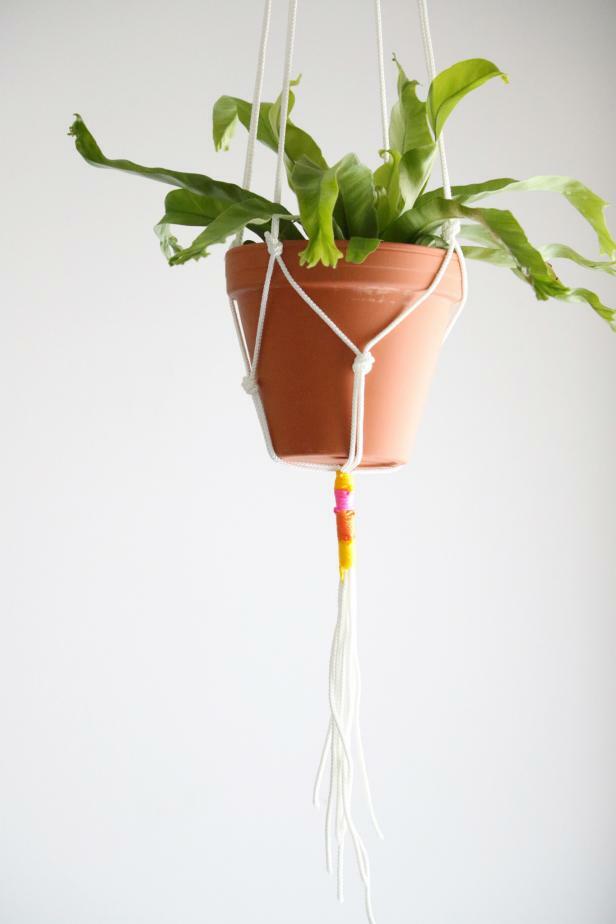 This DIY macrame plant hanger shows just how a little pop of color can take a simple design to the next level. The primary design is made using white polyester rope, while the colorful pattern uses a thinner polyester rope tied around it. (via HGTV)
Easy Beaded Macrame Plant Hanger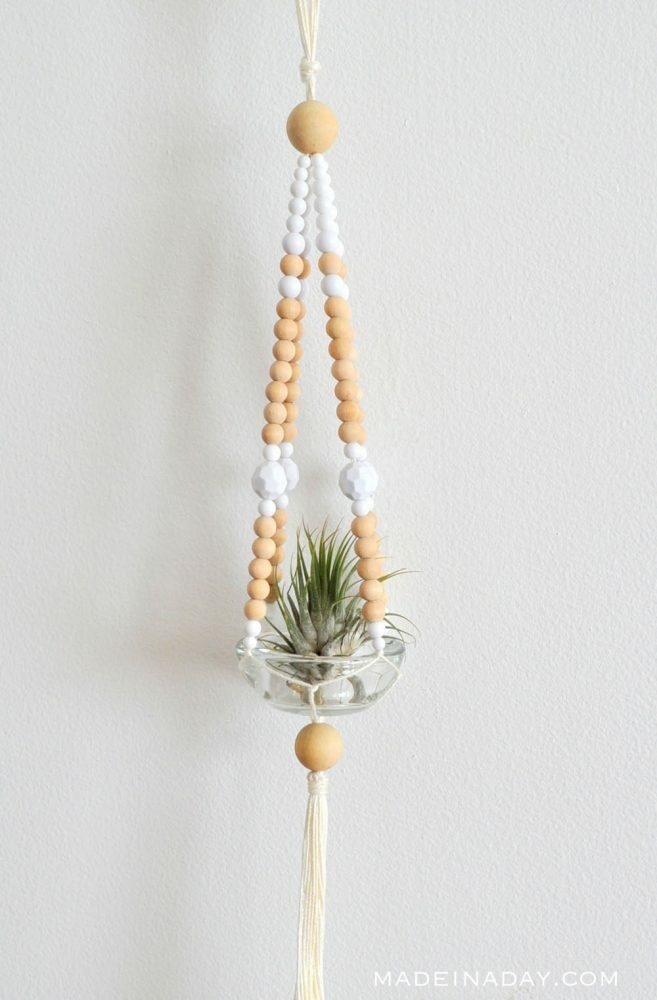 This has to be one of my favorite macrame plant hangers on this list! Here we turn the creativity up a notch by adding wooden beads to crochet thread. I love the versatility of this design. This planter would be great in any room in your living space. (via Made in a Day)
Simple Rope Macrame Plant Hanger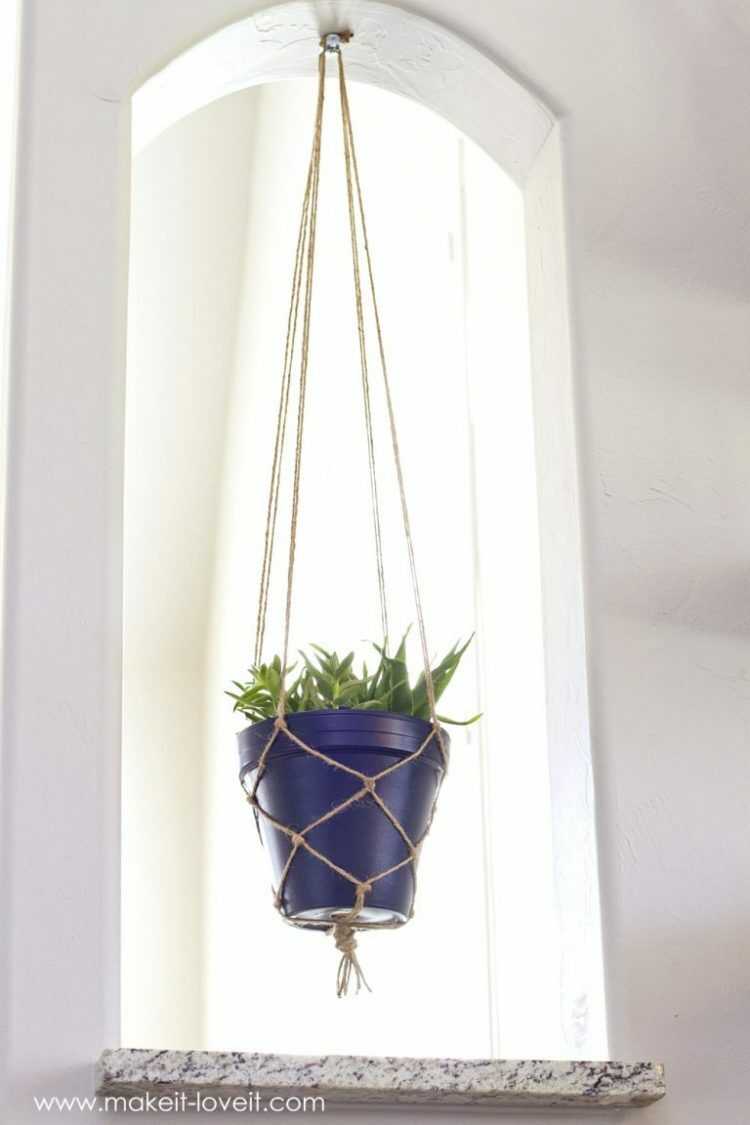 Looking for something more simple for your minimalist living space? This simple rope plant hanger is the perfect touch! It is super easy to make and adds just enough pizazz. (via House of Ideas)
Tee Shirt Plant Hanger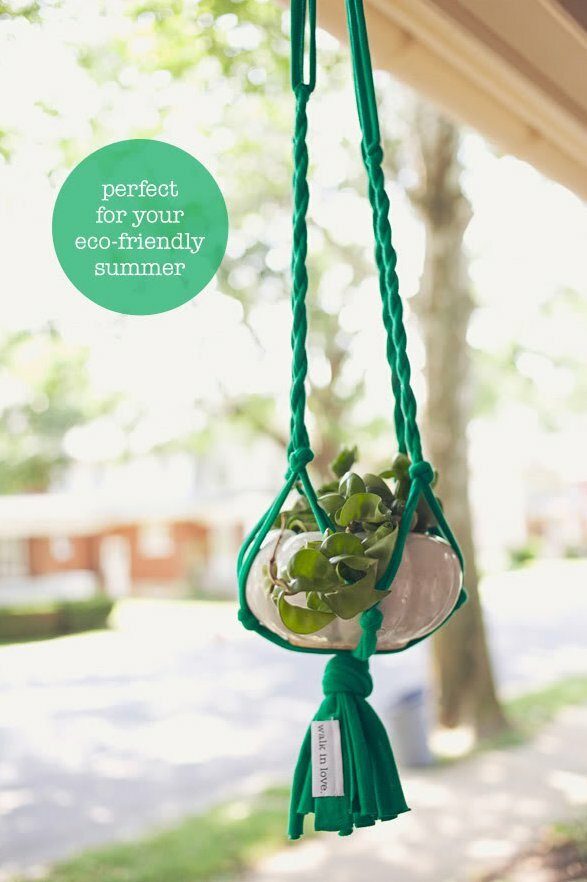 Can you believe that this was created using a tee shirt? This macrame hanging planter is perfect for the eco-friendly! (via Walk in Love)
Twine Plant Hanger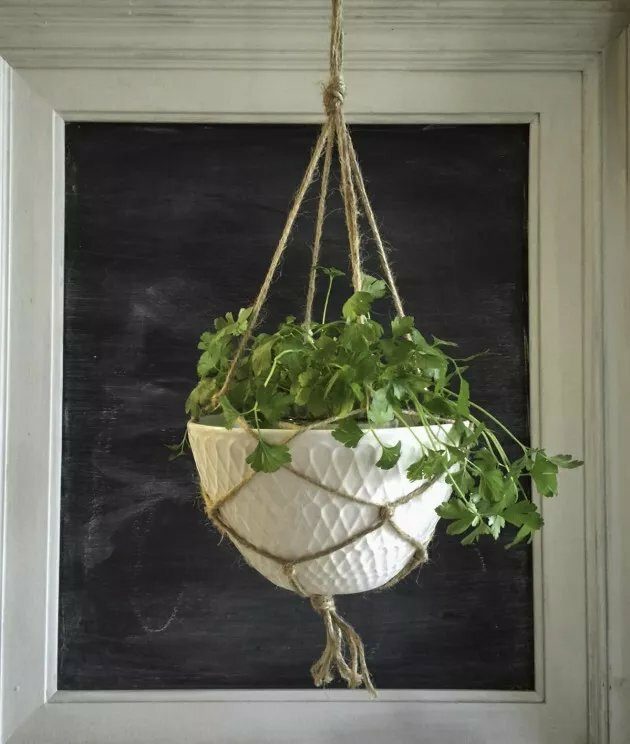 The twine used to make this macrame planter is giving me farmhouse decor vibes! This is the perfect kitchen or living room accent. (via Interior Collective)
Glass Bowl Macrame Plant Hanger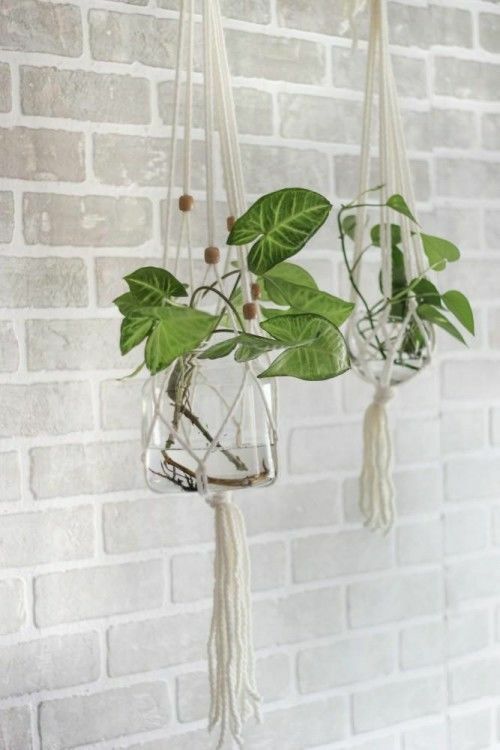 Who would've thought to incorporate glass jars into hanging planters? The transparency of the glass gives these planters gives such a beautiful effect, as you're able to see the stems and water inside of the jar. These would go well on the balcony or patio. (via Magnolia)
These DIY macrame plant hangers are not only fun but amazing for small spaces since they don't have to sit on the floor like a traditional plant. Also, they are great if you're on a tight budget and looking to decorate since the materials are super cheap and simple. Give macrame a try, and decorate your living space at that same time!