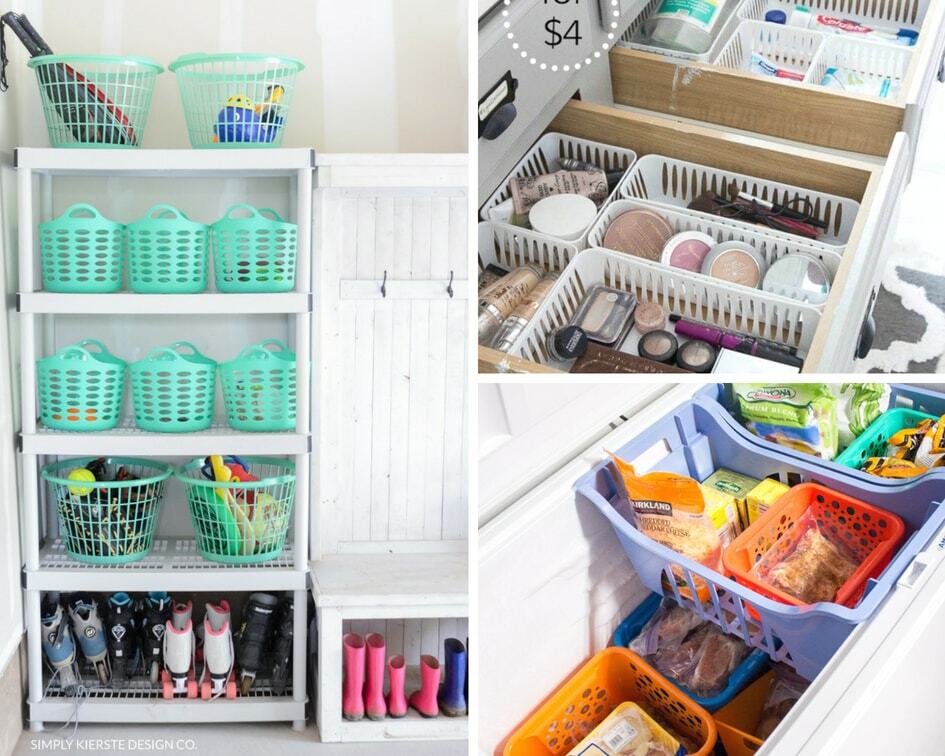 Home organization can be overwhelming, to say the least! There are so many little things around the house that don't seem to have a spot. Between the mail being tossed on the counter, to hair tyes getting lost in the sofa it's hard to keep track of it all!
Did you know that you can organize almost everything in your home with items from the Dollar Store? Trust me when I tell you that the Dollar Store is a treasure box full of useful goodies! For only a few dollars you can find everyday items that will help you get your life in order.
Most of these Dollar Store organization hacks are super easy and will create extra storage space in your home. It's amazing how easy it is to repurpose these everyday items into a complete home organization system.
Let's jump right in!
Use Wire Baskets to Organize Your Mail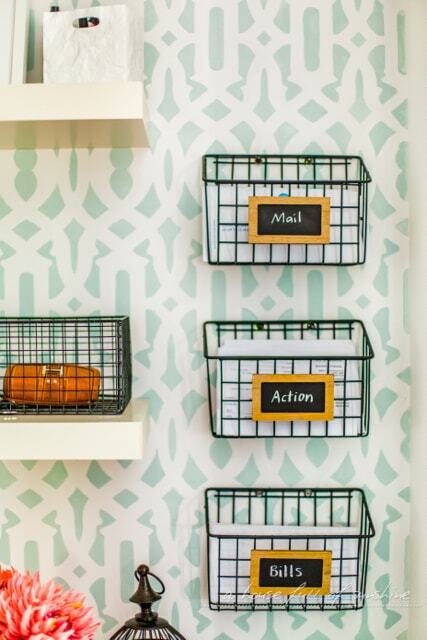 Grab a few wire baskets and nail them to a wall. Add labels to make them more appealing. This is a great way to sort your mail and avoid paper clutter. From A House Full of Sunshine
File Box Bathroom Appliance Storage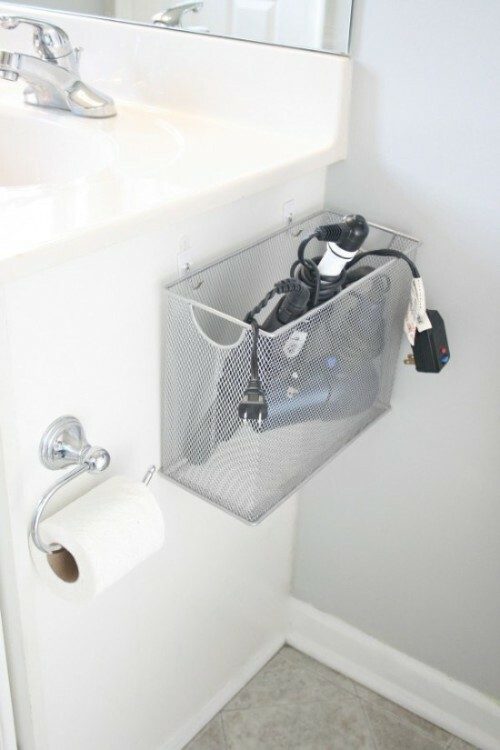 Most of us use our hair tools almost every day. A lot of times, they end up laying on the bathroom counter taking up space when we're not using them. Hang a file box on the side of your sink for extra storage and easy access to your curling irons and blow dryer. From Dream Green DIY
Ribbon Organizer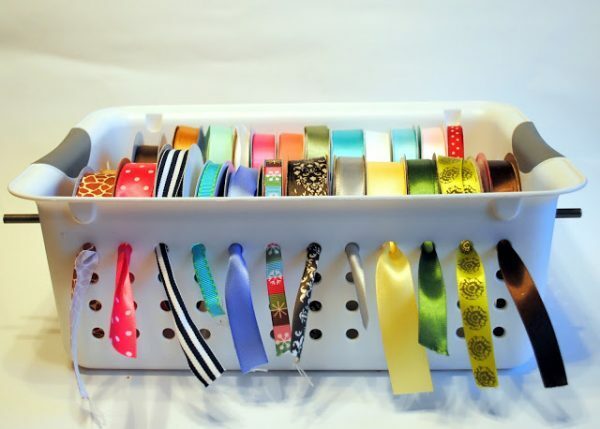 This dollar store organization hack is for my crafty folks. Craft room organization can get crazy! This nifty basket with holes is the perfect way to organize ribbon for easy access. From Spunky Junky
Chest Freezer Organizer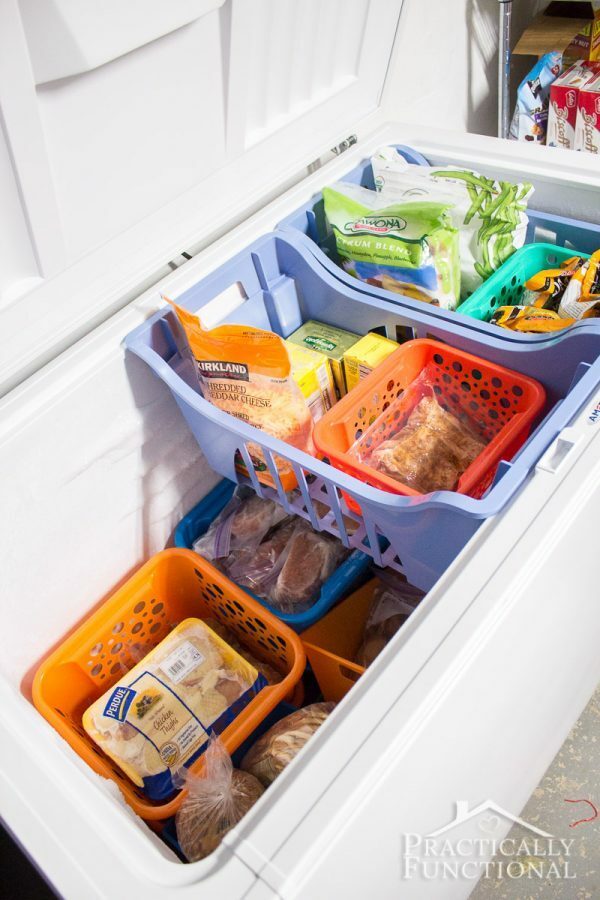 While deep freezers are a great storage option, it's easy to let things pile up get out of order. This clever hack uses plastic baskets to keep all of your frozen items sorted and tidy. I love the sliding baskets at the top which provide easy access to more frequently used items. From Practically Functional
Store Cupcake Liners in a Mason Jar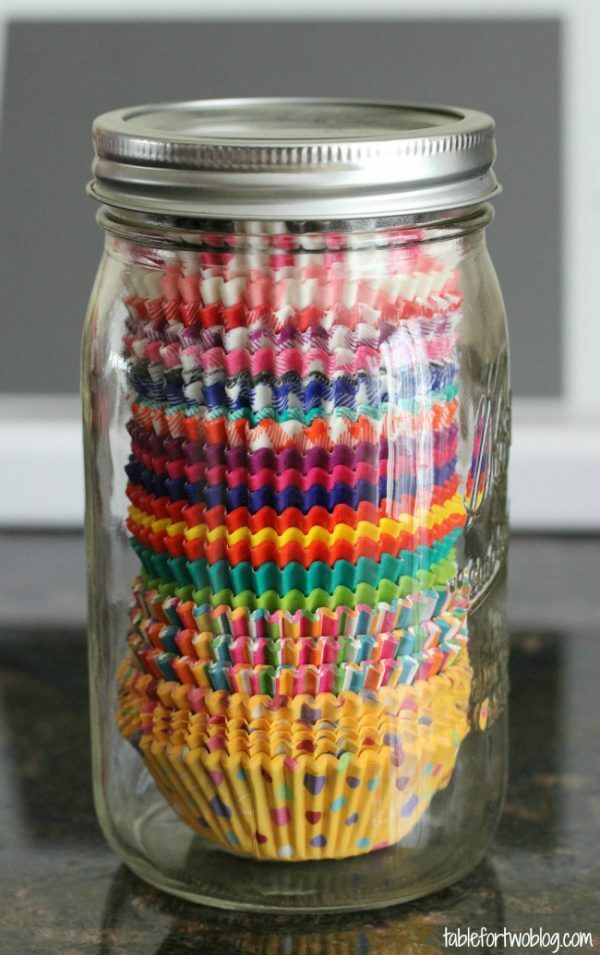 Is your baking cabinet out of control? Cupcake liners are one of those little items that typically don't have a spot. A mason jar is a perfect way to keep them in place. From Table for Two Blog
Use Magazine Holders for Pantry Organization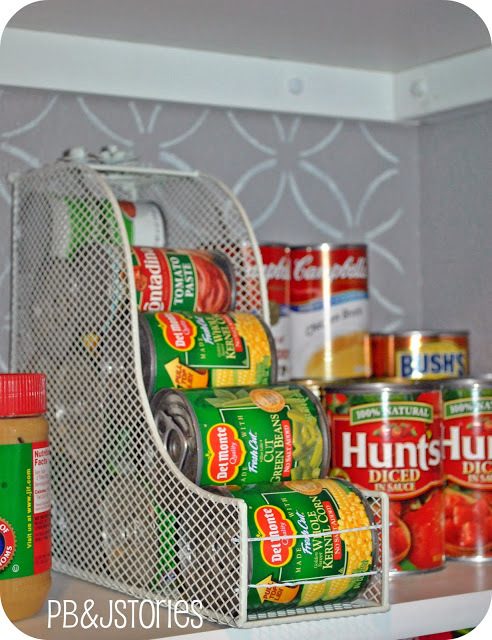 You'd be surprised how many things you can organize in your home with magazine holders! Pantry organization just got easier. Store canned foods with magazine holders to keep things organized and free up extra space in your cabinet. From PBJ Stories
Dollar Store Bathroom Drawer Organization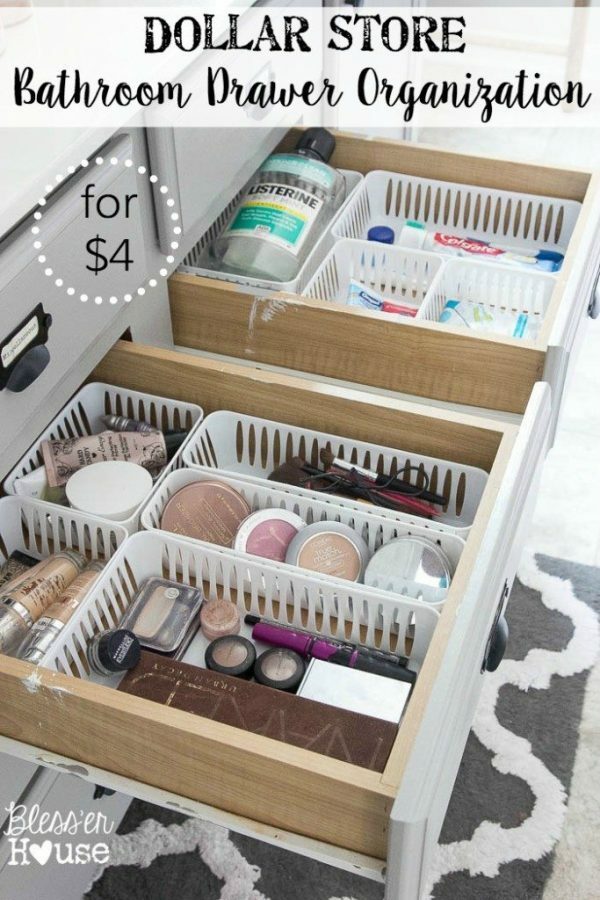 How many of us are guilty of throwing things in the bathroom drawer without even thinking about it? These plastic trays are only $1 a piece and will help you keep things sorted and easy to find. From Blesser House
Use baskets to Organize Your Garage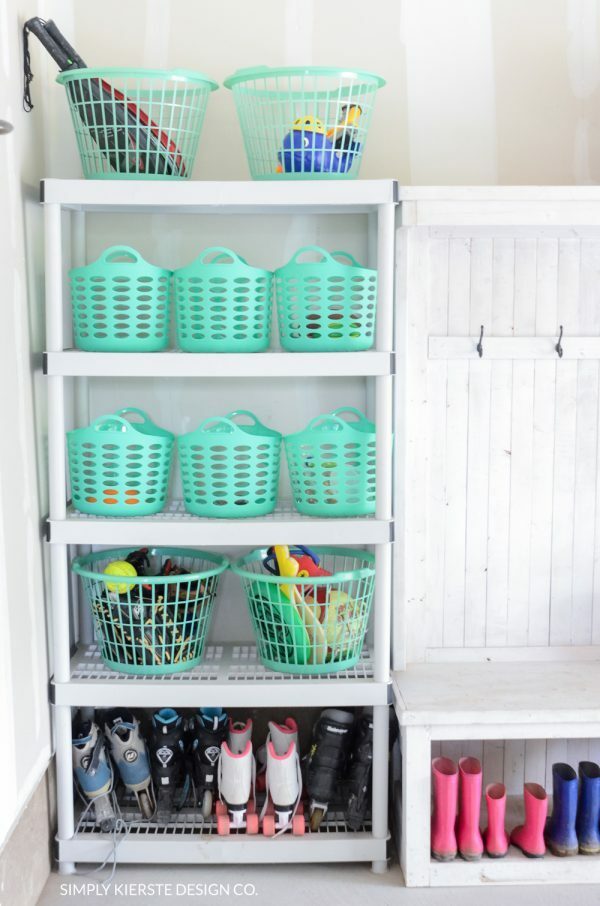 Garage organization can be a huge headache! A lot of times we think of the garage as a place to throw items that we don't typically keep in the house. That doesn't mean it can't be organized. Plastic laundry baskets can be used to store everything and keep things clean. From Simply Kierste
Use caddies to organize under the kitchen sink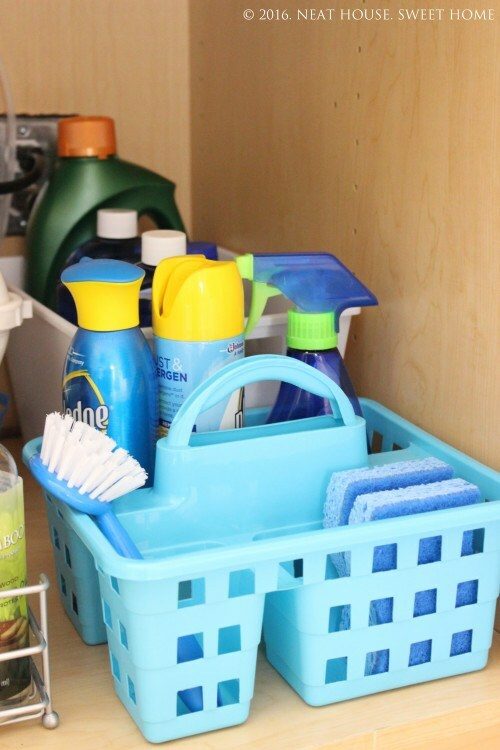 These caddies are literally $1 at the Dollar Store. Store all of your cleaning products neatly, and just grab them all in this caddy when you're ready to clean. From Neat House Sweet Home
Store Kids Craft Utensils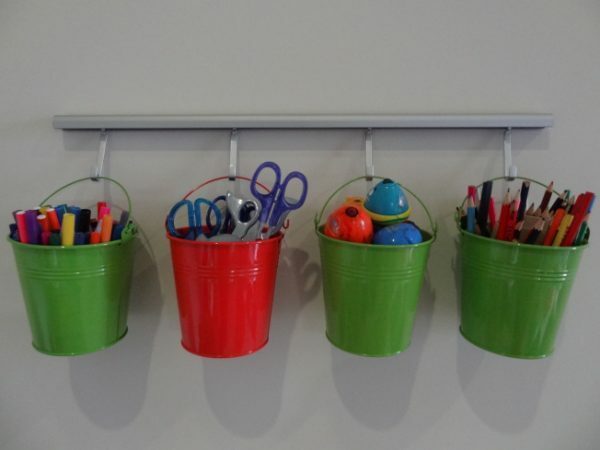 Tired of the kid's art utensils being scattered all over the place. Use this hanging bucket idea for a trendy storage option! From There Was a Crooked House
Create Towel Storage with Wicker Baskets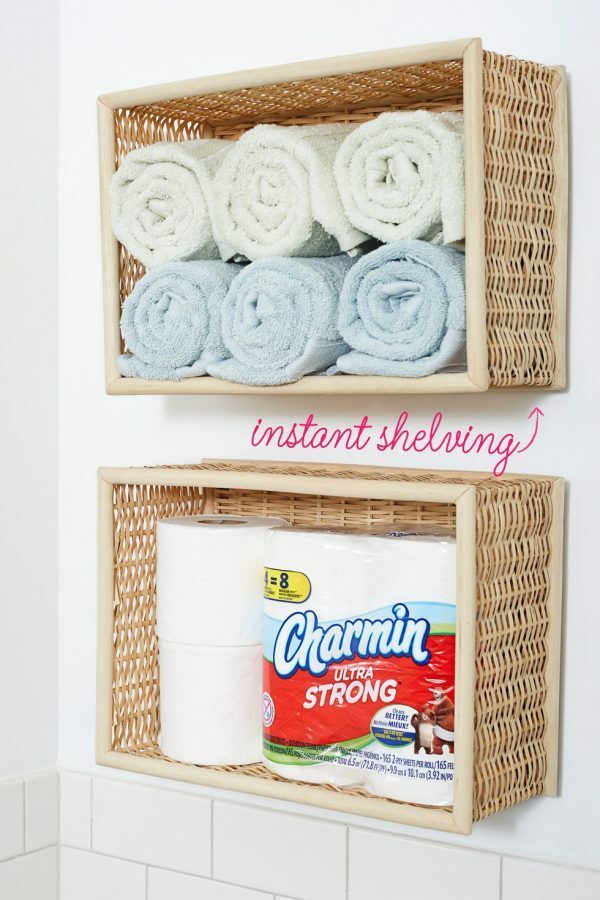 Wall space is always great for creating extra storage. These wicker baskets are similar to hanging shelves and are the perfect towel and toilet paper storage option! Not to mention, they make a cute bathroom decor piece. From Good Housekeeping
Dollar Store Bins to Stylish Storage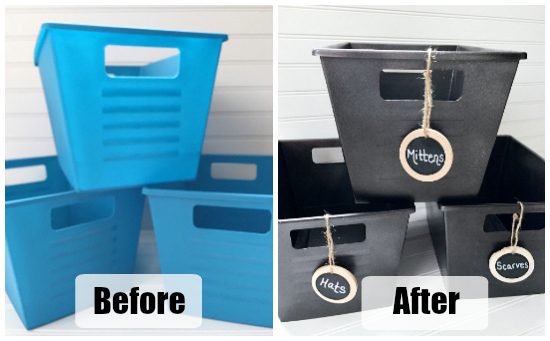 Just because you're using dollar store bins, doesn't mean that they have to look boring. This tutorial from Lemons Lavender and Laundry shows you how to make them look stylish!
Wrangle Hair Ties on a Carabiner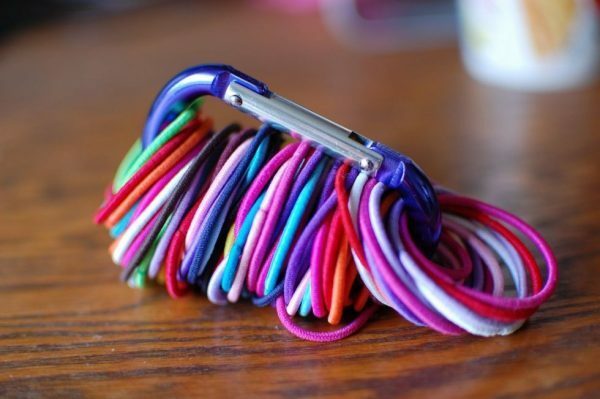 Tired of your hair ties getting lost? Use a carabiner to keep them in order! From Good Housekeeping
Use Command Hooks to Store Hair Tools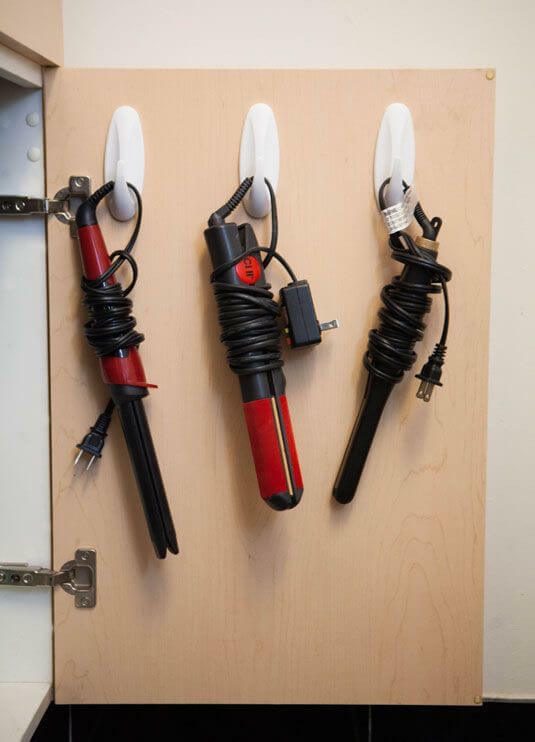 Command hooks are a home organization staple that you can't go without! This is a great way to hang your styling tools on the inside of the bathroom cabinet. From Cosmopolitan
Laundry Storage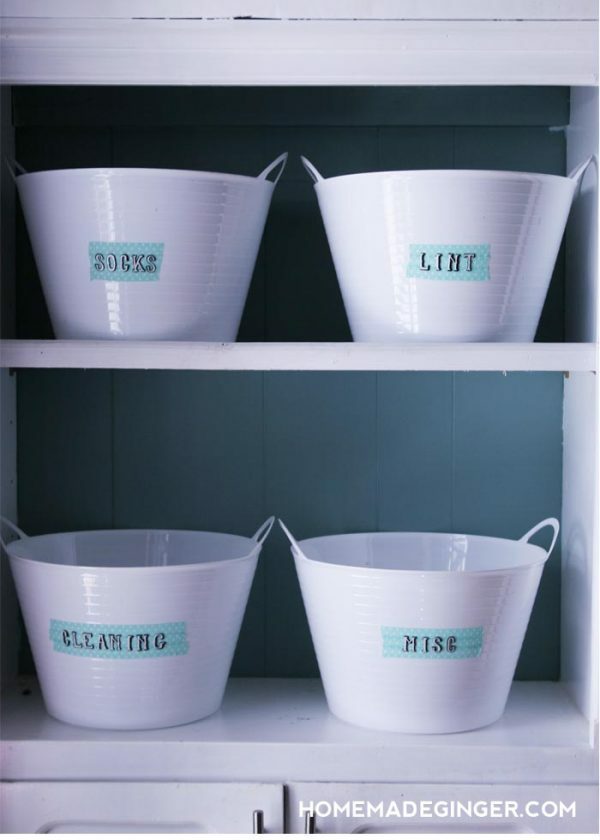 Laundry organization may be one of the hardest to keep together. It's easy for everyone to get in the habit of throwing dirty items on the laundry room floor. I love this idea of adding labels to baskets so everyone knows where to sort items. From Homemade Ginger
As you can see, getting organized can be cheap and easy! Head to the dollar store so you can get your home in order today!
Don't forget to pin these Dollar Store Organization hacks for later!