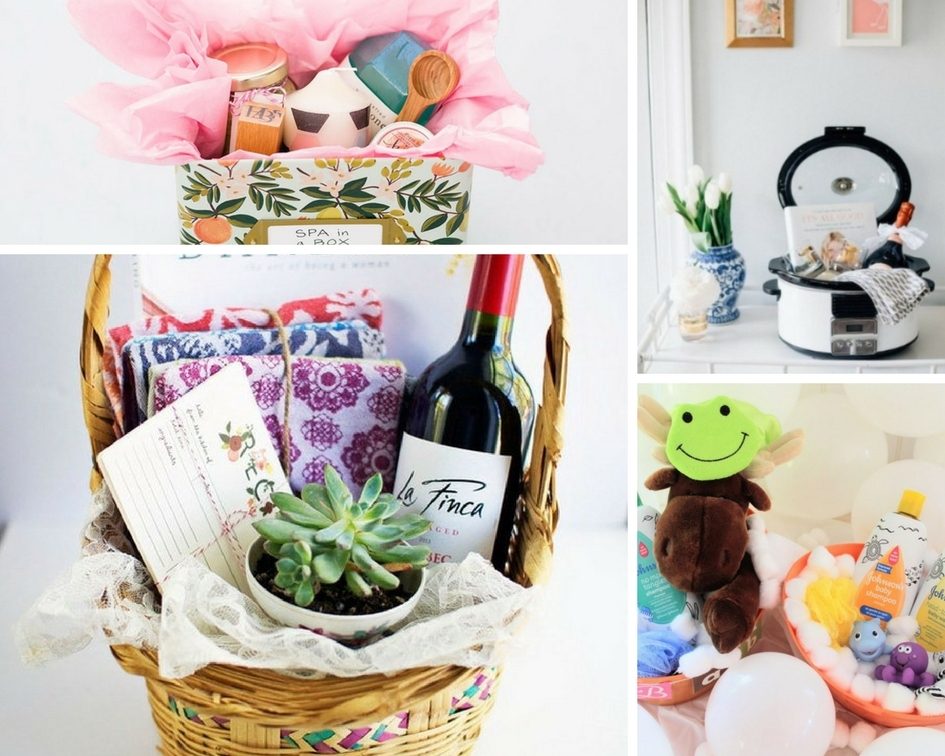 I absolutely love making gift baskets! And even more so, I love giving them as gifts! If you are ever not sure what to buy someone as a gift, this is the perfect idea. They are so much fun to make and can be customized to fit any occasion or personality. Buying a premade gift basket is usually more expensive, while DIY gift baskets can be created on almost any budget.
Below I rounded up some of my favorite and creative DIY gift basket ideas to give you some inspiration. They are super easy to make, and still look amazing! You'll also have fun making these in the process.
Coffee Lovers Themed Gift Basket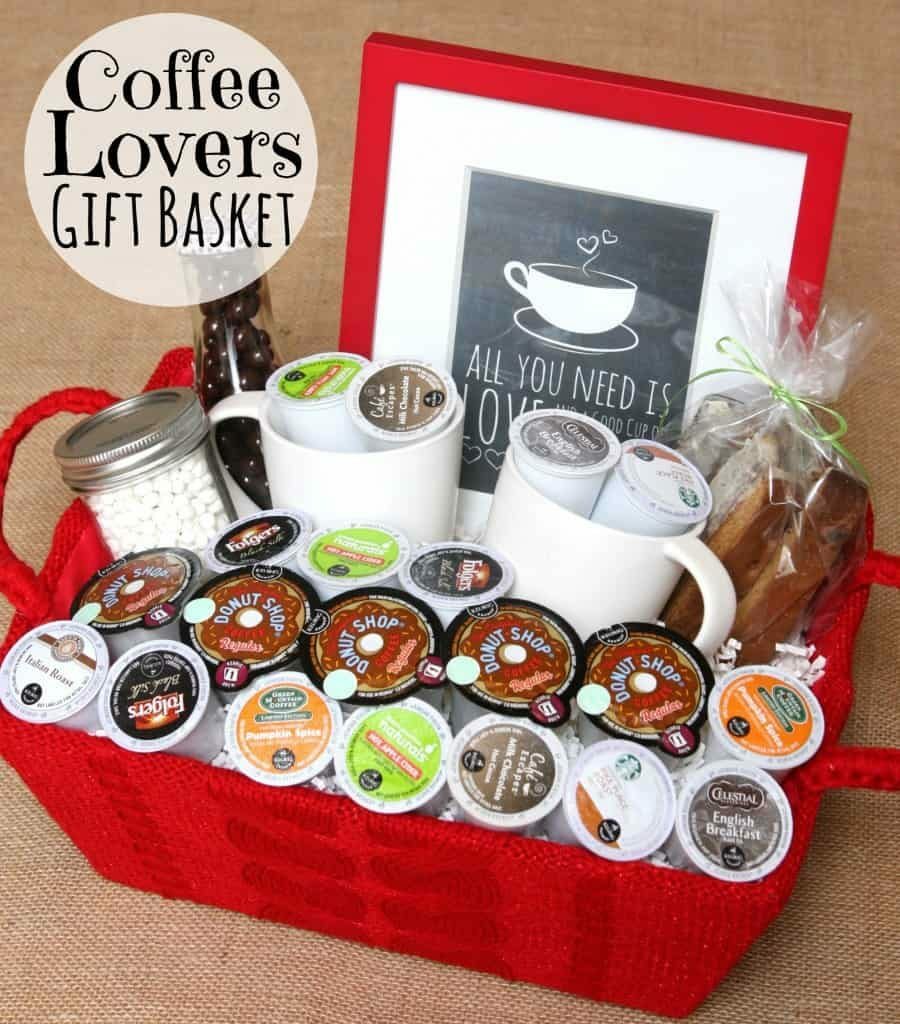 This gift basket is perfect for that friend or family member that just can't go a day without that cup of joe! This idea is fairly simple. Just crap a cute basket, add k-cups & creamers, and finish it off with a coffee mug or 2! For a nice finishing touch, throw in a few tasty treats like biscotti!
Baking Themed Gift Basket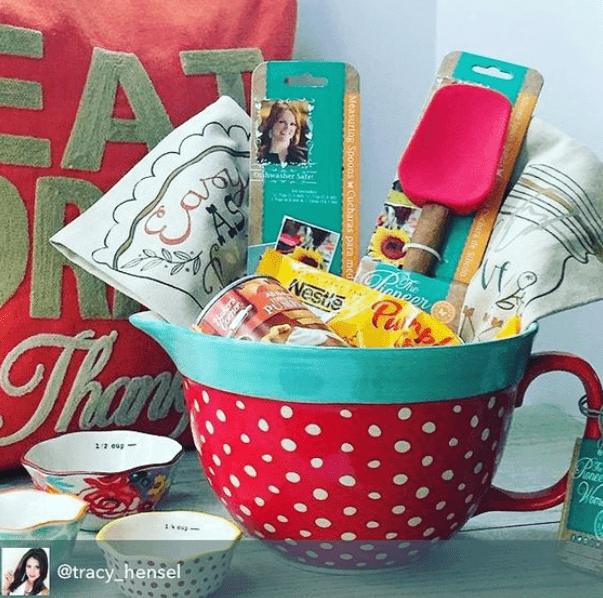 Via Instagram regram @tracey_hensel
This Pioneer Woman inspired basket is perfect for the baker in your life. I absolutely love this batter bowl! Throw in a few baking goodies, and maybe the recipient will bake you up something nice as a way to say thank you!
 DIY Gardner's Gift Basket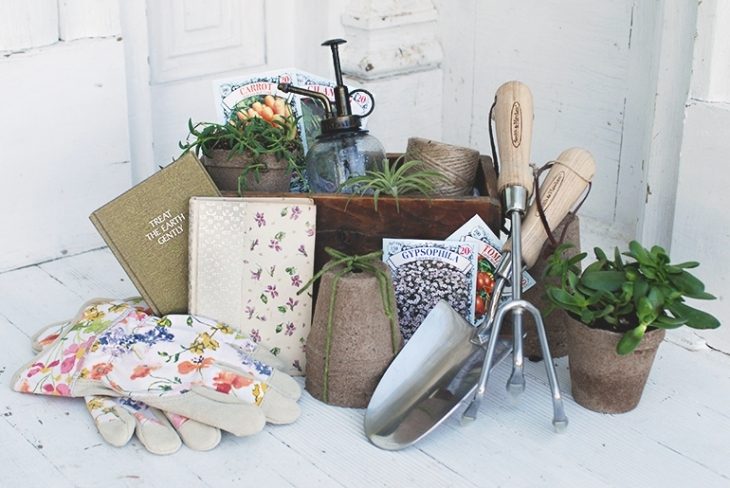 Know anyone with a green thumb? This gift basket is perfect for your favorite gardener pal! I love this idea because it is so personal and niche. It is the perfect personalized gift idea!
Father's Day Themed Gift Basket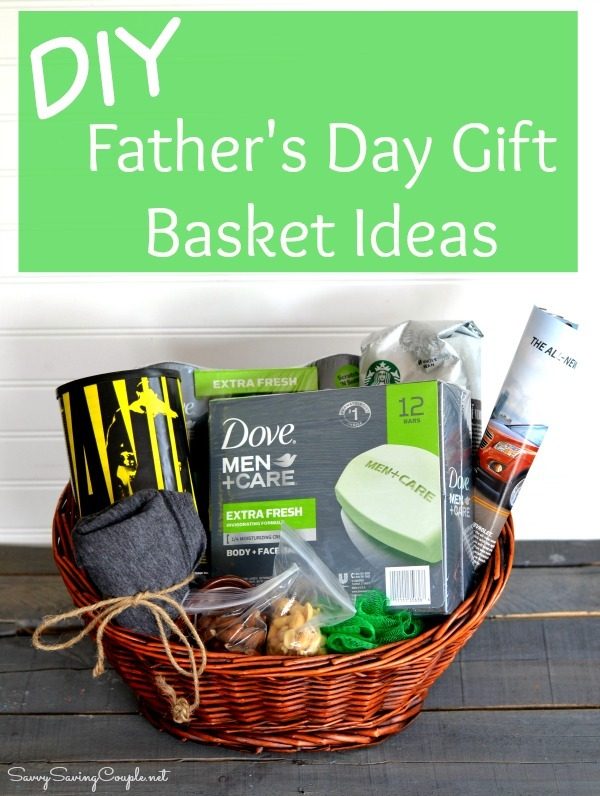 This basket is a great Father's Day idea, or if you are just wanting to make that special guy in your life feel special! Of course, you can customize this to include a few of his favorite items!
DIY Bridal Shower Gift Basket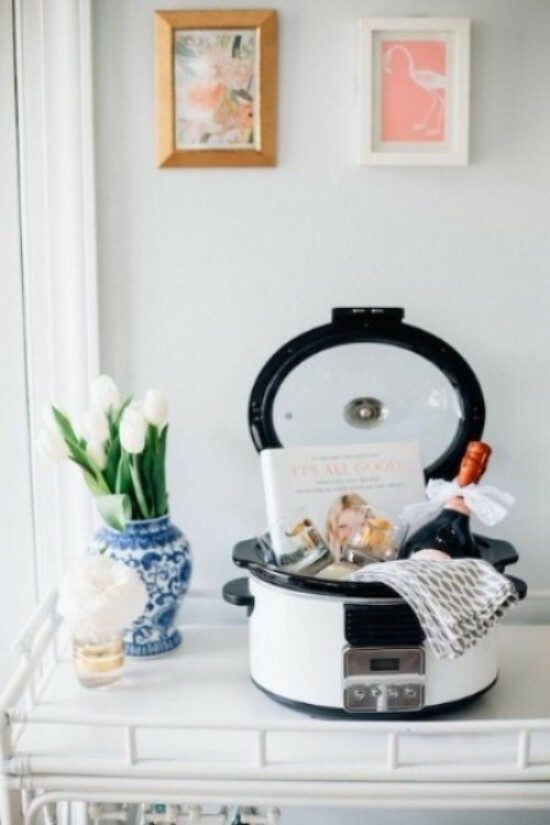 Looking for something nice to gift your best girl pal to celebrate her nuptials? A crockpot is not only practical, but acts as the perfect gift basket! The new bride will be sure to get a lot of good use out it. Add a cookbook for a nice touch to help give her a headstart on recipe planning. Also, throw in a bottle of champagne, and drinking glasses for her and the groom to celebrate!
College Survival Kit Themed Gift Basket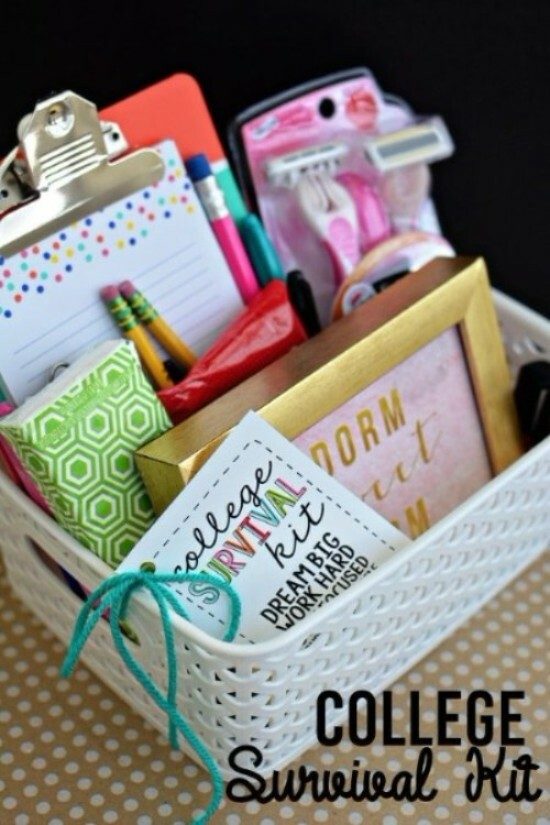 Starting college can be an exciting, but also nervous time! Lighten the mood by making a gift basket for your new college student. Start them off with a few necessities in this college survival kit. As an added touch, this gift basket includes a few handy printables. The college student in your life will certainly appreciate this one!
DIY Housewarming Gift Basket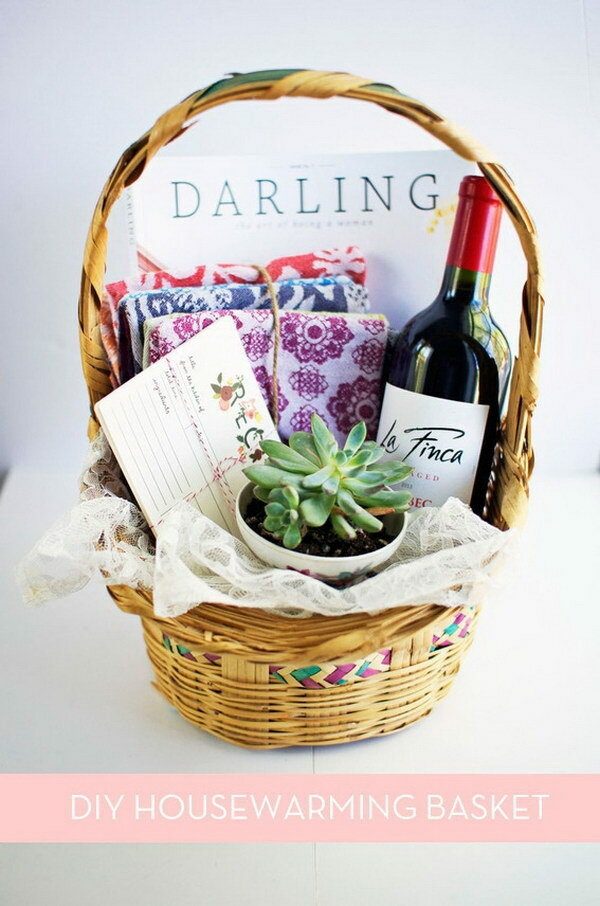 Via Curbly
This basket is the perfect gift for a new homeowner! It contains wine, recipe cards, a plant, kitchen towels and a magazine to act as a nice backdrop. I love this gift basket because while it's simple, the recipient is sure to use everything in it!
DIY Spa Gift Basket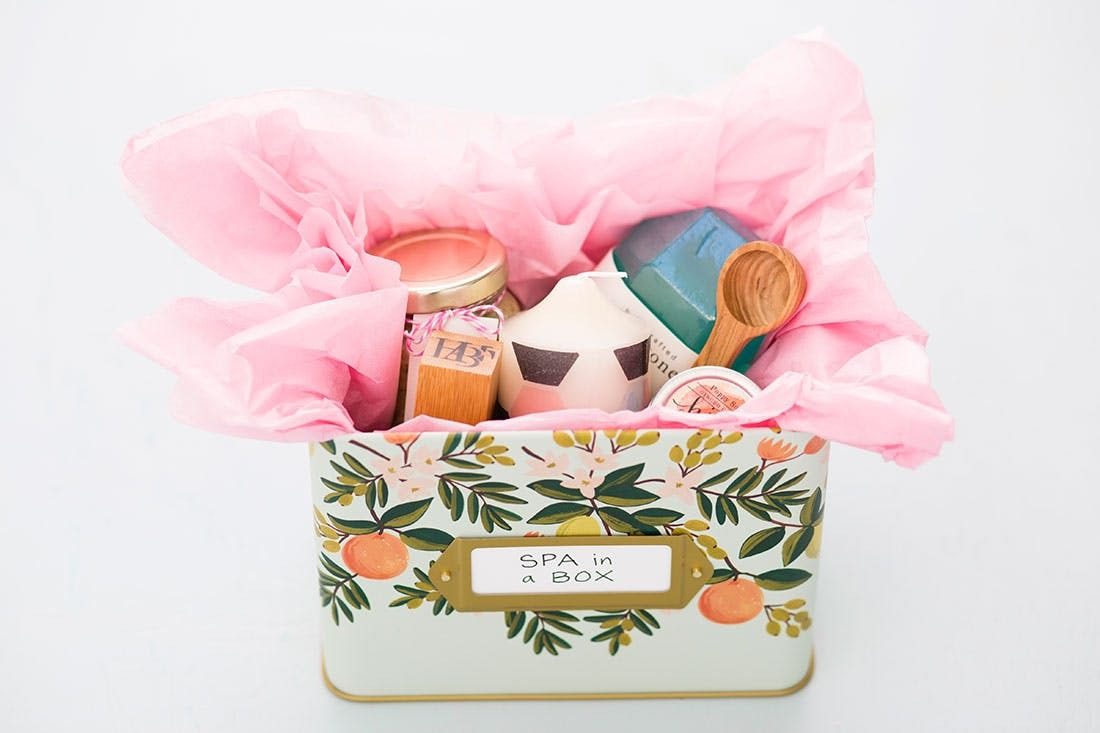 Via Brit + Co
Who doesn't love to be pampered!? This Spa-in-a-Box is the perfect gift for anyone, for just about any occasion. Also, most of the items inside are homemade and great for gift giving on a budget!
Bubble Bath Baby Shower Themed Gift Basket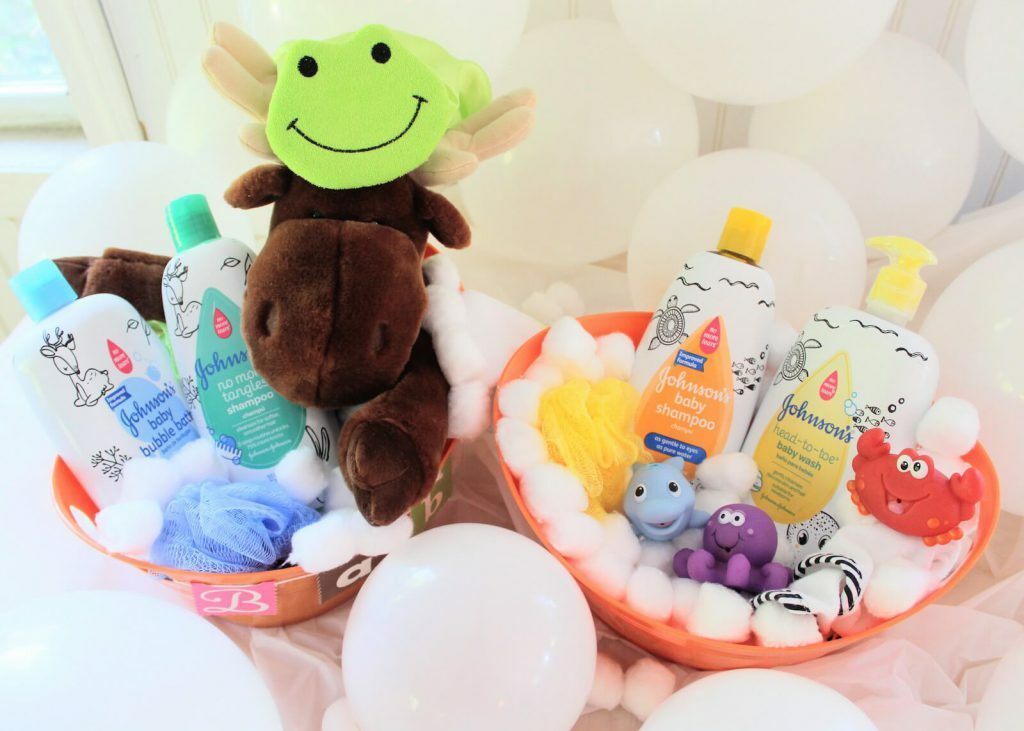 Via The Mom Friend
Isn't this just the cutest! Celebrate your friend's new bundle of joy by creating this adorable gift basket. This one includes all of the baby bath essentials, and cotton balls are used to look like bubbles. This is sure to be a hit at the baby shower!
DIY Hello Kitty Gift Basket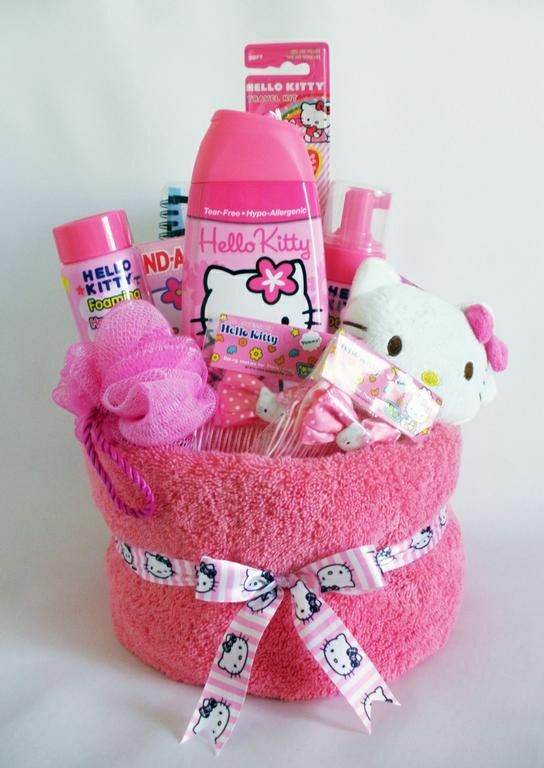 Via Merchant Circle
This is the perfect idea for the little princess in our lives! A towel acts as the basket here, and you just load it with all of the Hello Kitty goodies! Of course, this one can be customized with any character so the possibilities are endless!
Spring Cleaning Gift Basket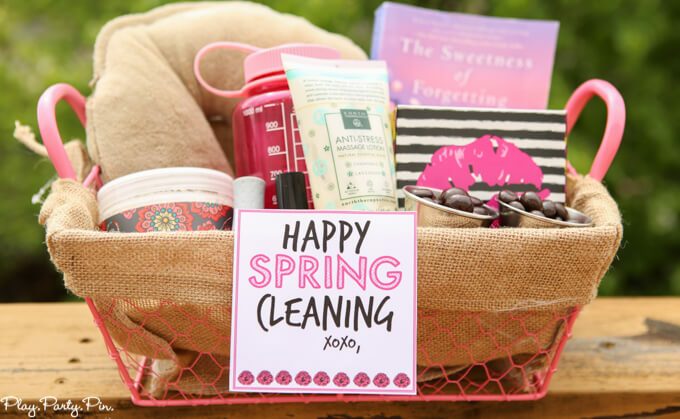 Via Play Party Plan
What better way to bring in Spring than by doing some Spring Cleaning! The idea here is to fill this basket with goodies that can be used after the Spring cleaning is done!
These DIY gift baskets are sure to give you the inspiration you need for almost any occasion. There are so many ways to customize these for everyone. I'm sure whoever you decide to gift one these to will feel extra special knowing that you took the time to add a personal touch!
Don't forget to pin for later!